I have a love/hate relationship with Gosh products.  They have awesome colours, but then the formulas sometimes leave much to be desired.
Not the case with Gosh's Brow Kit, which is a wonderfully versatile product that went straight into my makeup kit.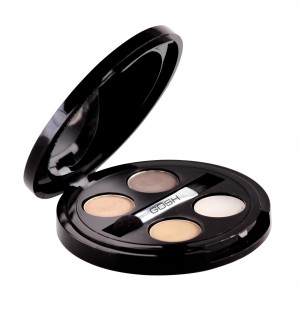 First of all, everyone should have a brow kit on hand.  Having nice polished brows is the one thing that makes your makeup go from amateur to professional.  We all know, that we should use powder after foundation, and primer before shadow, but defining their brows is the one thing that people forget to do!  Worst, they remember and think that using a regular eye pencil or shadow will do the job, and it really doesn't, because those products don't have the waxes to keep eyebrows in shape and looking great for an entire night.
The Gosh Brow kit is affordable and professional so it's easy for anyone to have.
It comes with three brow powders, a wax, an applicator, and a built in mirror so you can do touch-ups on the go if need be.
The wax is not too hard and is easy to apply.  The powders aren't too dark so you can create a totally natural look if need be or you can mix the powder with the wax to create a more striking and editorial look.
With tons of weddings coming up this summer, I know that I'm going to be using this kit a lot.  I don't have sparse brows, but I find that with the bright flash of the camera, they definitely get lighter and can look as if I've over-plucked them.  With just the right amount of filling in, this doesn't have to be the case, and my brows will look perfect with a flash and without!
The kit retails for $20 at Shoppers Drug Mart locations across Canada.