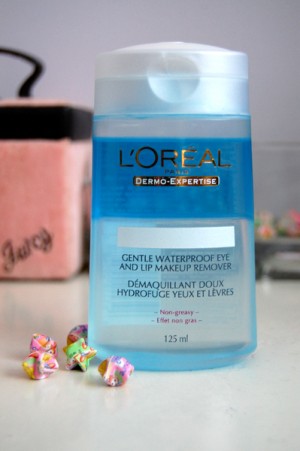 Let me introduce you to my favourite eye makeup remover: L'oreal Gentle Waterproof Eye and Lip Makeup Remover.
Literally every single makeup remover out there claims to remove waterproof mascara. However most of them don't even make a dent and you're left with this gross, leftover black residue around your eyes when you wake up in the morning. In my experience, only two makeup removers have actually removed everything, just like they claim to.
One is this, L'oreal's Gentle waterproof eye and lip makeup remover.
The other is Lancome's Bifacil, which costs about double the price.
Now don't get me wrong. I love Bifacil. But I wear waterproof mascara almost every day, and eye makeup remover gets kind of costly after a while. L'oreal's version works almost exactly the same.
It's a dual-phase oil and lotion remover that has a layer of dark oil, and a layer of light lotion, which you shake to mix. It removes every last trace of mascara and long lasting eye-makeup, and doesn't leave any greasy reside. It also costs around $10 at your local drugstore.
What's not to love?