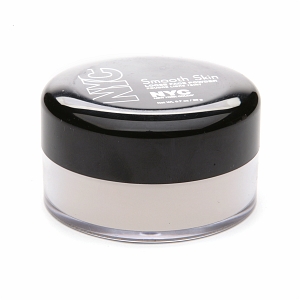 I came across this gem at Rexall one day while waiting for my prescription to be filled; I needed a loose powder, but didn't have time to run all the way to a department store or a mall. I've never had much luck with drugstore loose powder before; the ones that are readily available are not translucent, which is a big must in a setting powder and that is primarily what I use loose powder for.
NYC Smooth Skin Loose Powder is awesome, and not just for the roughly $3 price tag. It does exactly what it's supposed to do, which is set your foundation without leaving random extra pigment all over the place and it's nice and light without a cakey finish.
The powder contains calendula extract to keep skin soft, oat flour to smooth skin and reduce irritation, and rice starch to absorb oil. Not bad for $3, right?
My only quibble is the packaging; the lid does not screw on, so the powder is not travel friendly. The puff that comes with the loose powder is also not at all useful, so definitely use a brush or a powder puff purchased separately. Also, the first ingredient is talc, so be careful that you're using it extremely sparingly when you're expecting to be photographed, or use a different, more transparent powder.