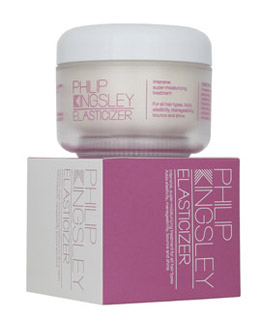 The summer has taken a toll on my hair, and this winter, I'm on a quest to have it be even healthier than before.
So when I came across Philip Kingsley's Hair Elasticizer at Holt Renfrew, I had to try it.
The Hair Elasticizer is a treatment that you put into your hair prior to shampooing.  You leave it in and then shampoo and condition as usual.  You can put the treatment in anywhere from 5 to 30 minutes before shampooing.  Really, my dream would be to sleep with it on and then wash it out in the morning, but alas, my mornings don't have that much time.
So I put this on before heading to the beach for a bit – it was in my hair for a couple of hours – and I had the best results.  After washing this out, my hair was super soft and shiny.  My first thought was that "this doesn't even feel like my own hair!"  You know a product is good when your hair is so amazing that it's unrecognizable even to you!
Grab this at Holt's – the jar looks tiny but it'll last you a long time.  I have long hair and I only needed about a tablespoon for thorough coverage.