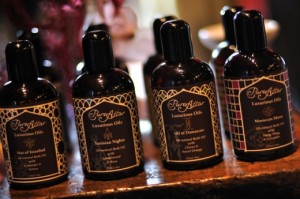 The one product I always have in my shower is moisturizing oil because it's quicker to apply than lotion, and if you put it on damp skin, it seals in all the moisture from your shower.
There are tons of great oils on the market, but I personally have always hated the smell of Neutrogena's Sesame Oil, and I look for more high end options because they smell better!
Pure Attar Oils are my new favourite.  Made in Vancouver by a woman who works as a certified aromatherapist at Miraj Hammam Spa, the Pure Attar oils hearken back to simpler times and perfumes.  The ingredients are natural and the blends are made using traditional eastern recipes.  These oils can be worn on their own to provide slight scent or layered with other perfumes to give long lasting complex perfume.
The oils are inspired by the smells of the East, and so they're exotic and lightly fragranced oils.  I find that I can use them all over my body and not be overwhelmed with scent but still have whiffs of it throughout the day. This is exactly what I want.  Since I'm using so much of the oil, I don't want to annoy anyone with the scent but I do want to smell good.
These oils are not as strongly scented as the Jo Malone bath oils or the Neutrogena Sesame Oil. The base of these oils is grape seed and olive oil so the oil pretty much sinks into your skin and feels very light.  The oils are scented with natural ingredients so all in all they have positive effects on both the mind and the body.
My favourite is the Tunisian Nights scent.  It is a simple blend of sandalwood and rose and is very feminine and pretty.
A 250ml bottle of Pure Attar massage oil costs $36 and you can purchase the oils as well as home scents through the Pure Attar website.