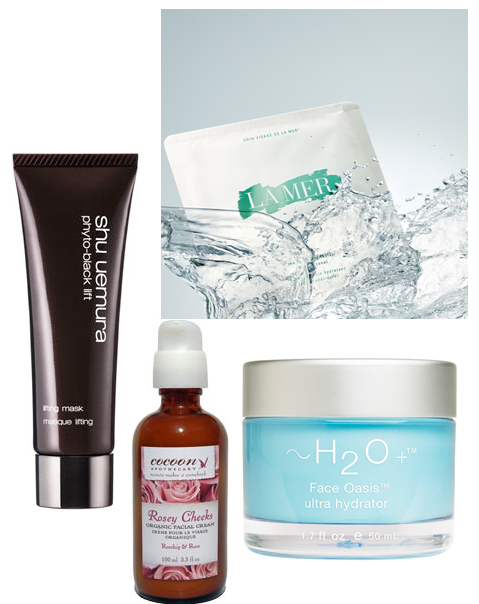 We know that the changing weather can wreak havoc on your skin, so we've rounded up our favourite products to save dry skin.  We chose these products because they're suitable for all skin-types, and won't clog pores at all.  Best of all, they are products that provide long-lasting moisturization.
The first couple of products we have to recommend are the Shu Uemura Phyto-Black Lifting Mask.  It's meant to sit on the skin to be absorbed, and then the excess can be tissued off or rubbed into the skin.  Use it just once and you'll see what a life-saver it really is.  Your skin will drink up the hydration and will look rejuvenated  for days to come! Retails for $84 at Holt Renfrew.
La Mer's mask is also good for those of us who really want intense hydration.  This is a cloth that's soaked with La Mer hydration and just sits on your skin with the excess being rubbed in. $325 for a package of 6 (available at Holt Renfrew, of course).
The next two products are moisturizers.  Cocoon Apothecary is a natural line of skin care products and their Rosey Cheeks moisturizer is to die for.  It sinks into skin and moisturizes without leaving skin sticky or greasy.  You can also get the products at some health food stores.
Finally, H2O Plus Face Oasis Ultra Hydrator is the moisturizers of choice for gals with oily skin.  It's oil-free and absorbs in an instant.  Skin is soft and super smooth after using – try it just once and you'll be hooked! $50 and available at H2O Plus stores and kiosks.