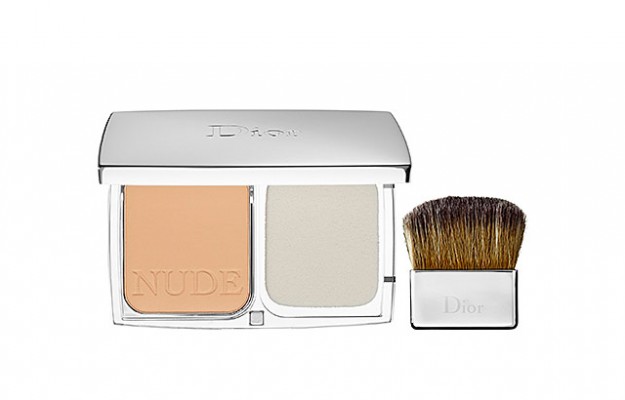 That's right, ladies, you read foundation, not BB or CC or any other such cream.  I'm talking actual coverage, longer wear, and not too much worrying about skincare, because you're going to apply sunscreen before foundation anyway, right?
So my foundation of choice this summer is the Diorskin Nude Compact which is a powder foundation with an SPF 10.  Apply it with a sponge, or the accompanying flat yet fluffy brush and you will get a light coverage of foundation that just seems to last and last.
The foundation is very forgiving in terms of coverage.  You'll find that when light hits your face, your skin looks flawless, but the sheer particles do let your skin show through too.  It's an interesting effect.  The foundation is light-reflecting and that's how it makes your skin look great, but it's not at all shimmery!  I love it because it's really easy to get nice looking skin with the foundation, without looking like you've overdone it on the makeup.
Because it's compact and so easy to apply, it also makes for the perfect companion on the go because you can dust it on oily skin whenever you need.
Here's to easy yet beautiful summer skin.
$52 at all Dior counters.