Growing up, I always admired the Ceramide capsules at the Elizabeth Arden counter, and thought that I'd use them when I really got into skincare.
Well, I guess I had no idea how much into skincare I would be and how many options there would be out there, which means that I've never actually gotten my hands on to Arden skincare until now.  I've got a jar of these Ceramide Eye Capsules and I'm totally smitten.  This year the original formula gets an update with 9 more ingredients added to the potent, restorative serum.  It includes lipids, fatty acids, and ceramides that not only add a barrier to the skin but also help it be luminous, smooth, and hydrated.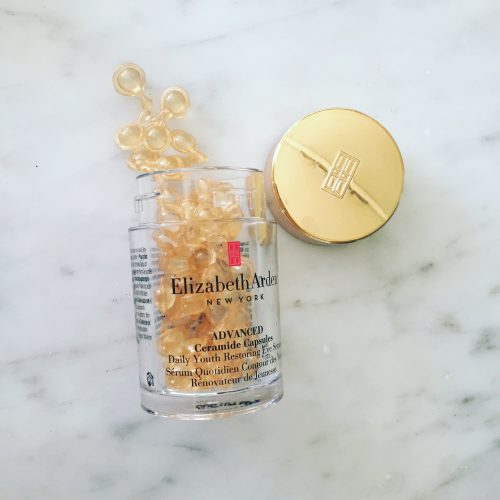 Let's be honest, the delivery system is pretty cool.  A little bit of serum enclosed in a bubble that you open when you need and squeeze out the juice inside.  There's actually enough serum in these for your whole face, because honestly, the eye area is actually so small that you just need to tap in a tiny bit.  I used the excess on other dry areas of my face, such as my chin or jaw area, or used it on the back of my hands.
The Ceramide serum is very lightweight but still moisturizing and absorbs quickly.  You can use the serum morning and night, but because it's a bit on the greasy side (and I don't mean that in a bad way but it's just a bit creamy) I found it better to use at night when I wasn't just going to apply makeup on top of it.  However, if you do have very dry under-eyes, you could apply this morning and night, and it would do a fantastic job at making sure the delicate thin skin under the eyes was taken care of.
Available at The Bay, Shoppers Beauty Boutique, and London Drugs.  $77 for 60 capsules.