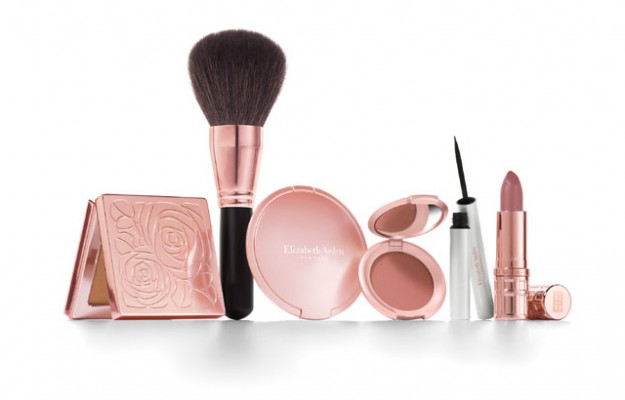 Gorgeous wearable colour is what you can expect this spring from Elizabeth Arden. The collection includes a bronzer, highlighter, cream blush, lipstick, brush, and liquid eyeliner. Here's a rundown on what the products are like.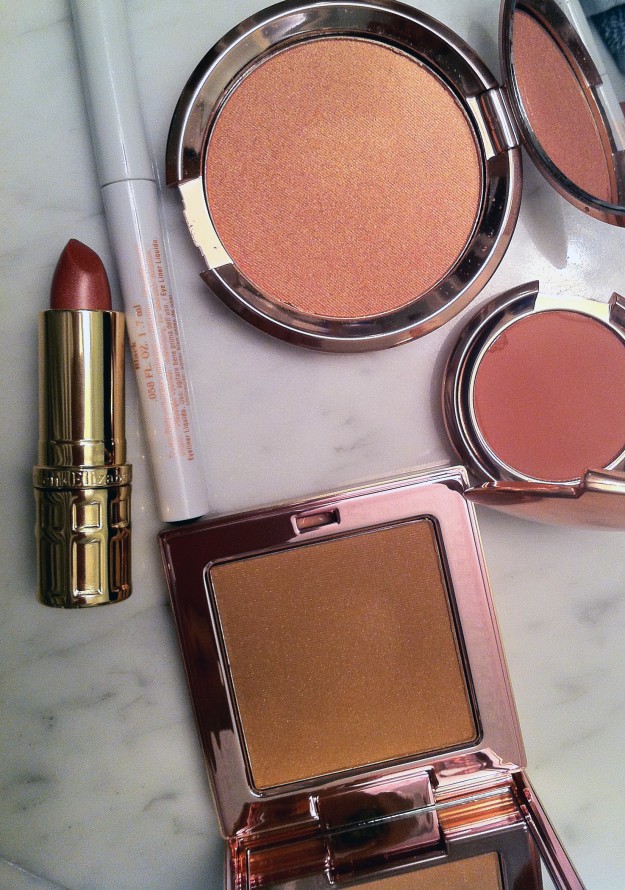 Ceramide Ultra Lipstick in Rose Aurora ($29) is probably my least favourite product. This rose gold lipstick was slightly frosty and I thought that the look it gave me was kind of dated. It definitely ages the face because of the extreme amount of shimmer. I'd prefer something in a cream formulation, but this might not be bad used as a highlighter in the center of the lips.
The Silky Finish Bronze Powder ($45) is indeed silky, but also shimmery so best used sparingly. It's a nice natural brown colour that would work on a variety of skin tones. I like that it works as a highlighter on cheeks if you wear it on its own too.
The Pure Finish Highlighter ($45) is one of the better products from the collection. Though the highlighter looks pinkish in the compact, it actually wears more gold, so it's very wearable on every skin tone. I even like using it as an eyeshadow.
The Ceramide Cream Blush in Honey ($30) is a first. This neutral medium cream pink blush is highly pigmented but blends over foundation very nicely. I found that it had amazing staying power even when I didn't add powder on top! Though it's a cream, the texture is light and silky rather than being greasy, and I think that's what makes it last so long on the cheeks. The compact it comes in is kind of small, but it's big enough to use a brush with, or to pick up colour on your fingers. I did prefer to apply this with my hands as I found that it was easier to apply and blend blush exactly where I wanted it.
Elizabeth Arden Liquid Eyeliner ($22) is by far my very favourite product from the collection. It's got a sponge tip and a very smooth formula which makes this liquid eyeliner a cinch to apply. The formula sets in about 30 seconds (which requires some patience), but once it sets, it will not budge in the slightest. This is a formula that you can remove with just water, which means that you won't be left with lots of eyeliner on your eye at the end of the day. If you are looking for a new black liquid eyeliner, I suggest that you check this one out because it's one of the best that I've tried recently!
The Rose Aurora collection is limited edition and will be available at Shoppers Drug Mart, Sears, and The Bay locations beginning this month.