Really, the "word concentrate" in this blow-dry serum says it all: it's thicker and heavier than your usual Moroccanoil hair treatment, but it's slippery and great for frizzy hair whether you're blow-drying it or not.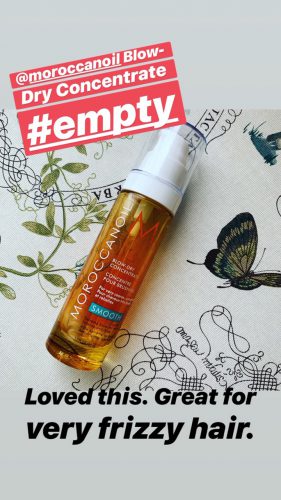 I love using this so much but especially in the summer when the weather is hot and humid.  My very curly hair needs all the help it can get to stay smooth and shiny, and I find that this treatment really does it for me, which must be how I've gone through an entire bottle of this.
You can use this on wet/damp hair before you heat-style it but you can also use it on dry hair to make it a bit more shiny.  If you use it on dry hair, a little bit goes a long way.  Too much and you'll end up with very greasy hair.  On wet hair, this works much better, defining curls and making hair stay smooth.  It also seems to lock in all moisture which is key for styling hair and essential for curly hair.
I've been using this daily after I wash my hair, and I actually think that my hair looks healthier than ever, so I'm very pleased with it.
Available at salons and where good haircare is found. About $38.