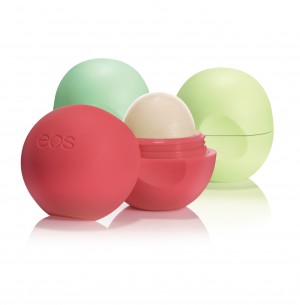 This summer, I'm totally in love with eos lip balm in Sweet Mint.  Evolution of Smooth makes lip balm that's 95% organic, and 100% smooth.  Sweet Mint is perfect for the summer because it's so refreshing. Sweet Mint is the light green one in the image above, but also check out Summer Fruit which is non minty but has a yummy berry flavour.
Not only are the lip balms natural and yummy, but they are amazing moisturizers because they have shea butter and other natural emollients in them.  Keep them on hand to save parched lips.
These lip balms are paraben and petroleum free!
Pick them up online or find a store near you.  Each is $3.99.