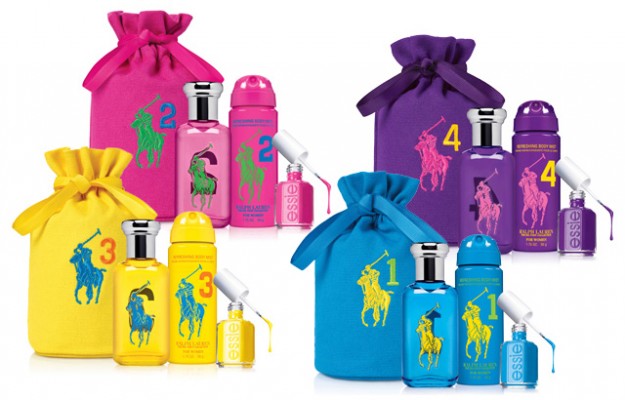 I once read a quote by Essie Weingarten (actually, this was last year) that said she would never create a yellow nail polish because she didn't like it.  Thus, Essie the brand never jumped on the yellow nail polish trend last summer.
That however has changed – yellow is one of the four new shades part of the Big Pony Fragrance Collection which pairs Ralph Lauren Big Pony fragrances with an Essie nail polish.  It's a collaboration made possible thanks to parent company L'Oreal which makes the Ralph Lauren perfumes, and the Essie polishes.
The duos come packaged in a drawstring bag, which makes them great for gifting to polish and fragrance lovers.
There are 2 packages available:
30ml fragrance, 50g Body Mist & Essie nail polish for $47 available exclusively at Jean Coutu in Quebec; or
50 ml fragrance and Essie nail polish for $67 at The Bay and Sears.