Nail art may be a thing of the past (well, almost) but taking its place is polish finishes that are anything but ordinary. Essie may be the last to the finish line in coming out with their own uniquely finished polish, but they've definitely taken the category to the next level with their Encrusted Treasures Collection.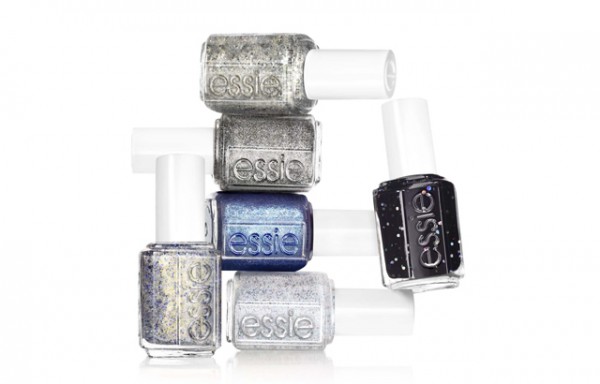 Each polish in the collection is completely different and the collection lets you achieve a variety of looks.
Nails look finished and like shimmering jewels.
The colours are:
belugaria—holographic jet black lace
peak of chic—alpine white holographic rainbow fringe
on a silver platter—pearlescent gold with holographic violet glitter
lots of lux—shimmering lapis lazuli with a superfine matte finish
ignite the night—sparkling hematite with a superfine matte finish
hors d'oeuvres—platinum gold with iridescent silver glitter
The most amazing colour is definitely Belugaria.  It's a black that looks almost like a caviar manicure when you wear it.  It has holographic glitter in it but also chunks of black polish.  One coat is all you need for a super chunky almost junk-like finish.  It's so cool, and pretty difficult to describe, so check out my swatch: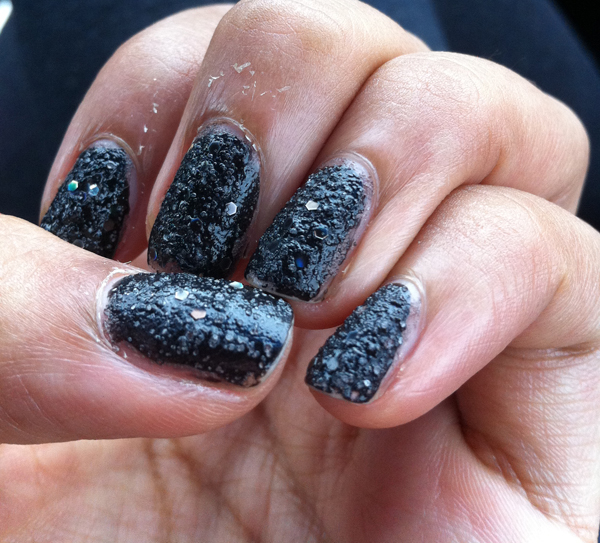 I used no base coat or top coat with this and had decent wear… about 3 days without any chipping.  I think that's to be expected with a polish that goes on like this.
Peak of Chic is little bits of white and holographic fringe.  It's the furry effect, and it's available through other polish lines as well.  I applied it on top of Essie's Mind Your Mittens from their Winter 2013 collection. This is just 1 coat.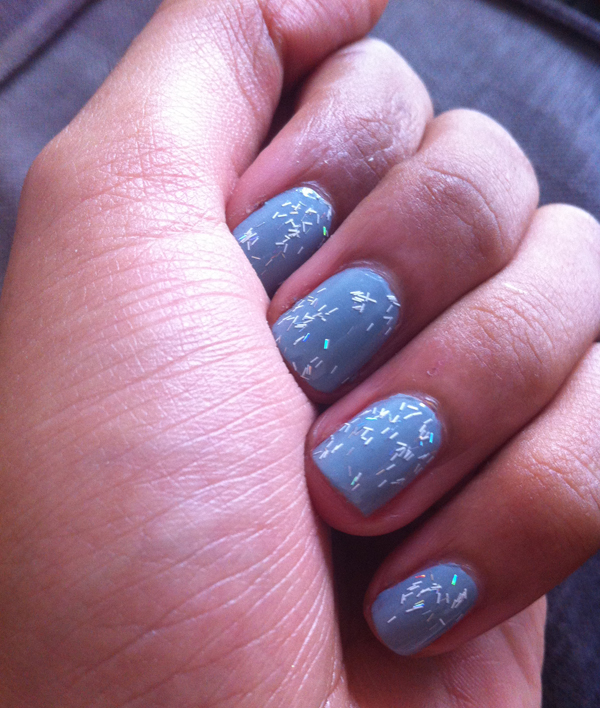 Essie On a Silver Platter is super pretty and I got tons of compliments on this one.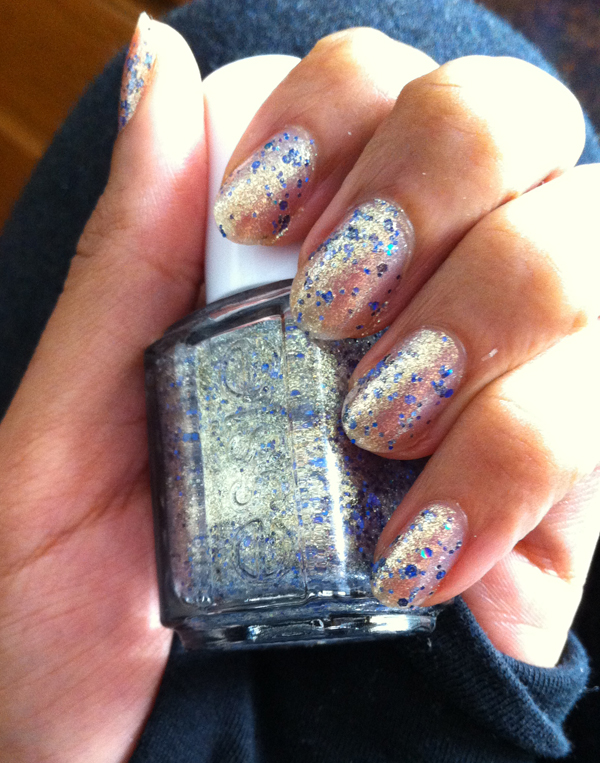 Ignite the Night is definitely one of my favourites.  It really is a hematite colour: charcoal grey shimmer and the matte finish doesn't get caught on clothes or in hair.  Two coats gave me opaque coverage, and I liked wearing it without a top coat, although you could certainly wear one for extra shine.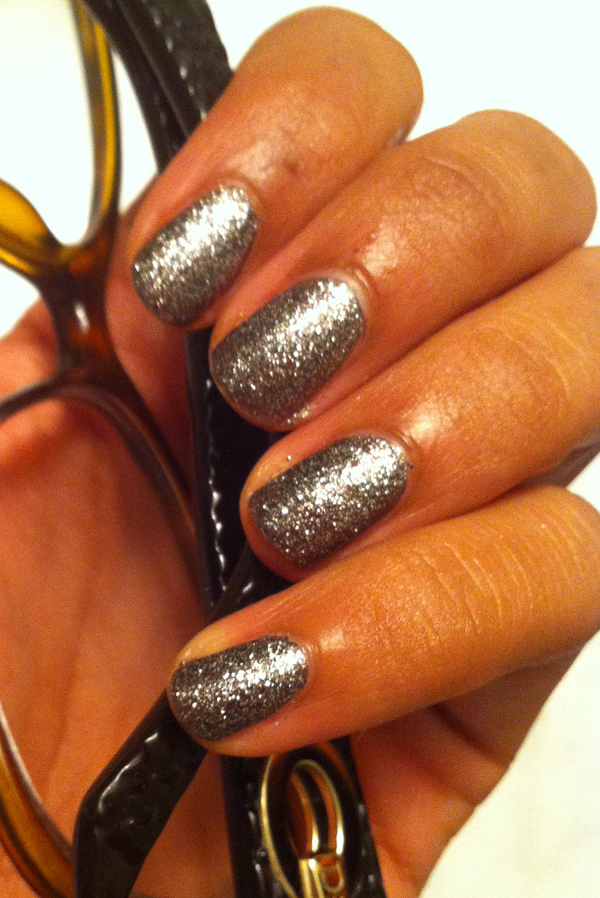 Lots of Lux is a bright blue shimmer with a matte finish.  It's different from OPI's Sand polish because the shimmer is sparkly.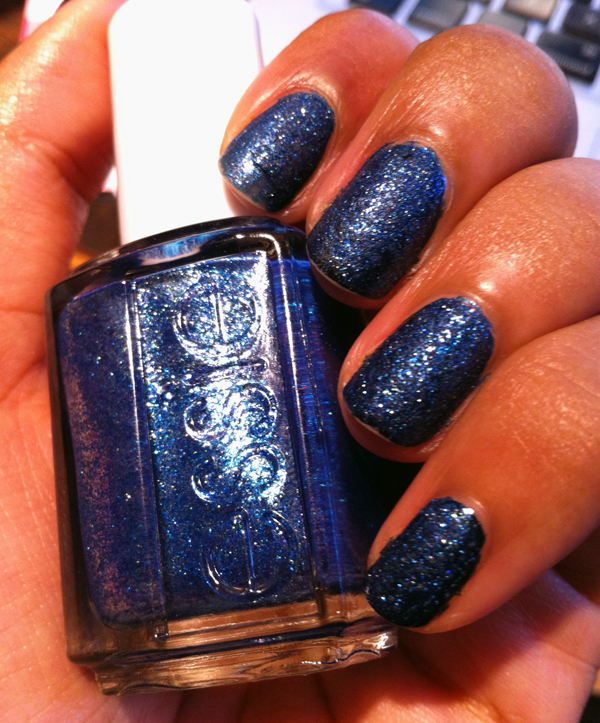 Here is Hors D'Oeuvres: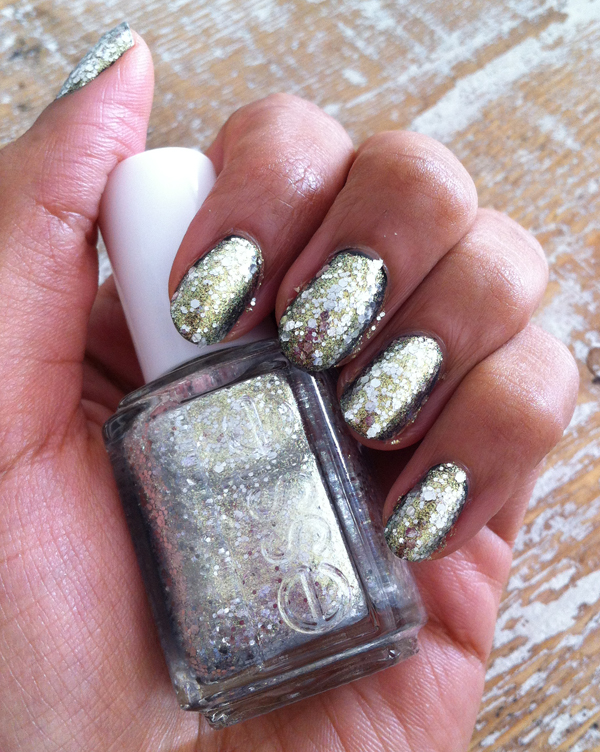 This is a light yellow gold base with lots of large silver glitter in it.  It's quite a chunky finish, so use it with a top coat if you like these finishes smooth.
This is probably one of my favourite nail polish collections EVER.  It's super pretty and each colour is totally unique.  Although I loved wearing these polishes, at the end of all this swatching I got really sick of taking off the glitter.  It's a pain because it really sticks to the nail – you would think that would make the lasting power of these polishes better, but that wasn't the case.  These are awesome for special occasions but I wouldn't wear them every day (even though I love them) (Ok, maybe Ignite the Night I would wear daily).