… and a little update on my foundation adventures.  I'm a little more outdoorsy these days and so am extra careful about applying lots of sunscreen.  Probably more than ever.  Which has made me realize that my foundation is not up to snuff.  It's slipping and sliding during the day, and truth be told, these new super viscous formulas are not helping at all.  They're not dry to the touch and oil absorbing, which is clearly what I need.  I use a wipe at the end of the day to take off my makeup, and let me tell you that there's nothing on it when I wipe my face.  No foundation is left… it's all gone.  My mascara and eyeliner is still there, but the MAC Studio Waterweight?  It's gone.  I don't know where it goes, but it's rubbed off my face during the course of the day.
Make Up For Ever Ultra HD?  Mostly gone, but I do get a tiny bit of it on my wipe… mostly from my forehead area.
The Make Up For Ever Foundation stick has great lasting power and really sticks on to my skin, but the colour I have is too light for me, so that's gone.
L'Oreal Infallible would stay but the colour I have is too dark (it was my vacay makeup) so I haven't updated it yet.
What I really need is something like Estee Lauder's Double Wear – a foundation I haven't gone back to in nearly a decade but that promises almost everything I need.  It's known for it's staying power and it's great coverage.   What I didn't realize is that it also has a very natural and dewy finish that looks like real skin.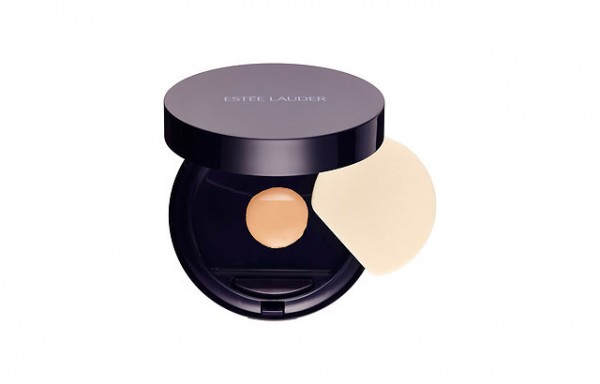 And now – this wonder makeup – is available in a compact so that you can take it with you and it's unbelievable.  So unreal and nifty is this that it makes you wonder why they don't just package all foundations in this?
It is spill-proof, break-proof, compact, and it's very easy to get just the amount of makeup that you need.   All you do is click a button and the foundation comes out into the pan of the compact.  You can do a quick click for a little foundation or a long press for more product.  The pan actually makes it so easy to pick up product with a brush and smooth on your face.  You could also use your fingers if you were on the go, but I like the idea of not getting my hands dirty at all.
It's genius and I wish more foundations (or all foundations!) came in this packaging.  I don't think you get as much product, but it's worth it!