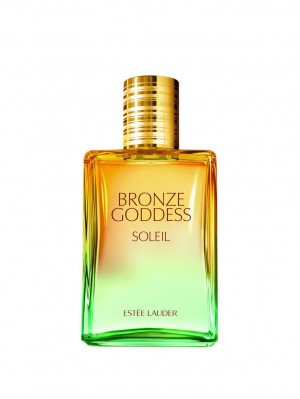 Estee Lauder's Bronze Goddess Soleil had all the beginnings of an amazing summer scent. The scent is inspired by the Mediterranean and includes notes of Bergamot, Orange Blossom, and other citrus notes.
On first spray, the scent is warm yet refreshing because of the citrus notes.  Because it's supposed to be a body spray, it is amazingly light and you can spray a lot without it being overpowering.
The scent isn't anything specific.  I don't smell lots of Bergamot or any other note.  Instead, I smell a vague blend of ocean water mixed with sunscreen and maybe a tiny bit of lemonade.  It's nice.  It completely reminds me of any beach vacation I've taken to the point that I can almost feel a wet bathing suit on my skin and the heat beating on me.  It's amazing where this perfume can take me to, really.
But the reminiscing is over in a flash because the scent is gone.  It fades from the skin super quickly, and I would be surprised if anyone can get more than an hour of wear out of this.  It's too bad really, because if it could stick to the skin, I would wear this all through winter to give myself some place warm to go to in my head.
Bronze Goddess Soleil is LE so if you're interested in trying it, head on over to the Estee Lauder counter.