You will have seen a lack of reviews on the popular cushion makeup that's come out in recent years. You can find it at Sephora, the drugstore, or the department store, in the form of a usually watery foundation that's housed in a compact with a built in cushion.  You tap the cushion and then apply foundation on your skin.  Because the formula is so watery, the foundation applies smoothly and looks like skin.  Honestly, I've been sent some samples but can't seem to find a perfect match for my skin tone. 
Until now.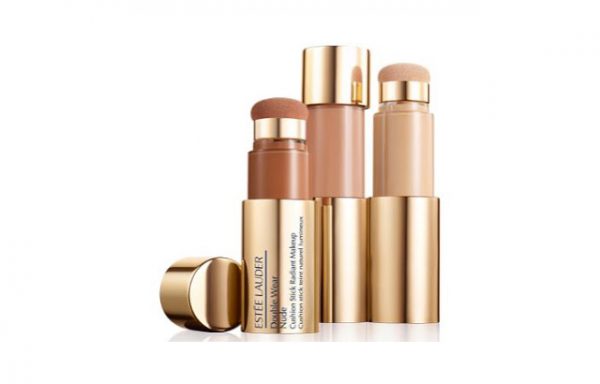 Welcome Estee Lauder's answer to cushion makeup – a Cushion Stick instead of a compact, available in their Double Wear Nude formula, which is the antithesis of cakey long-wearing makeup of the past. 
Because this Cushion Stick comes in 15 shades, I was able to get the perfect match to my skin – it's so good that it doesn't even look like I'm wearing makeup and I can even apply it only on areas that I want covered (typically under my eyes). The formula is weightless but not watery.  You take the cap off the tube, and then twist the bottom up until the foundation comes through on to the cushion.  It applies like a cream, and you can blend it into your skin using the cushion, or apply in dabs and then blend using the tool of your choice – I use my fingertips.  If you The makeup is radiant because it actually reflects light just like skin would – I powder on top to make it wear a bit longer, then go on my way.  At the end of the day, my foundation is still on my face, so I'm happy with the wear. 
If you're worried about continually using the cushion to apply the foundation, you can twist it off, wash and dry it, and then twist it back on.  I only use it to dot the foundation on to my skin, so I'm not too worried about it being very dirty.
This foundation really works if you want natural-looking foundation without too much coverage – I like it so much that I'm almost done my tube.  
Pick it up at Sephora or Estee Lauder counters or online. $46.