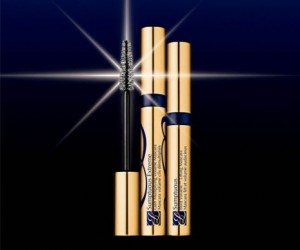 The newest Estee Lauder mascara is called Sumptuous Extreme and is a take off on their popular Sumptuous mascara (which I really loved).
The mascara features a large wand that tapers on the end making it really easy to get the mascara on to those tiny corner lashes.  Estee Lauder also says that this brush holds more mascara, so getting more product on to your lashes will be easier than ever before. The wand does a great job of separating and defining the lashes!
What I really love about the mascara is the formula.  It seems to be rich yet light-weight, so even when I put layers upon layers of the mascara on, my lashes feel really light and feathery.  The mascara's wand provides the definition, but this formula lets you build real drama.
My only complaint about the mascara is that I found that it smudged if I had very long days.  I do have oilier than usual eyelids, but I'm able to wear most mascaras without this problem.  This mascara is probably waxier than most which led to the smudging problem.
On a regular day, this mascara stay put and didn't flake at all – so I was really happy with that.  I also loved the colour of the mascara.  It's really rich and deep and I think that's where the "extreme" part of the name plays a part.  The mascara comes in Extreme Black, Extreme Brown, Extreme Indigo, and Extreme Violet and retails for $28.50.  You can purchase this at Estee Lauder counters everywhere.