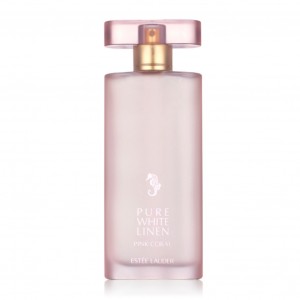 White Linen is an Estee Lauder classic. It's a clean fresh scent that came out in 1978 and is a mix of florals and amber with a woody drydown that's almost musty. That it's still out on the market and loved by many is a testament to its universality.
Then came Pure White Linen, and now there is Pure White Linen Pink Coral.
The Pink Coral version comes in a similarly shaped bottle that's pale pink (shocker!) and is an eau's like the others. The top notes are pink peppercorn and chinese berry, which give the opening of this scent a distinctly peppery smell that immediately blends with the muskiness that is still at its heart. Sweet Pea, Cherry Blossom, and Pink Peony round out the floral area of the fragrance, and all in all, it's a light and airy scent despite its more grounded base notes.
I find this perfect for summer nights out because it's sensual without being heavy or heady. The sprays are Eau de Parfums (yay, long-lasting formulations) and a 50 ml bottle retails for $64 or you can get 100 ml for $84. This is at Estee Lauder counters everywhere.