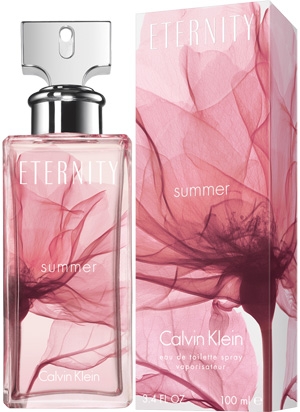 It's late in the summer for this review, and for that I apologize.  I've been busy with weddings and house guests, and it's finally occurred to me that I should review the scent I spritz on myself without even thinking.
Since 2009, CK has been releasing a "Summer" flanker for its popular scent Eternity.
The scent is soft, with notes of muguet, violet, cilantro, gardenia, jasmine, lotus, musk, mimosa and fig wood, according to the press notes.
On me, the overall scent is like a soft floral powder that's fresh and, yes, summery.  I do smell the violet, gardenia, and jasmine, and a slight hint of musk.  Notes like musk and woods are usually in the drydown, and I have to say that on me, there is no drydown with this scent.  It's there… and then it's not.
And that's why I've been spritzing it on so much.  It's a light scent that you can spray on yourself as a picker upper, without offending anyone's sensitive sense of smell.  There's also no warmth in the scent, so when you're hot and sticky… well,  you won't smell like it.  Most likely, you won't smell like anything because this scent simply disappears when the going gets tough.
CK Eternity Summer is a lovely soft floral for those of you who are looking for light florals in the summer.  Because it is so light and offensive, it would be great worn at the office.  But it won't take you from day to night because chances are that it will disappear before the sun goes down, and you'll need something stronger for those long summer days.
Pick this up wherever CK scents are sold, including most department stores.