Ok, so the Make Up For Ever Ultra HD Foundation is my fancy foundation and it photographs so well, but for everyday, easy-to-use foundation I use MAC Studio Waterweight foundation because it has a light serum-like consistency that spreads easily with my fingers.  It is also SPF 30 so it's great to have on during the day.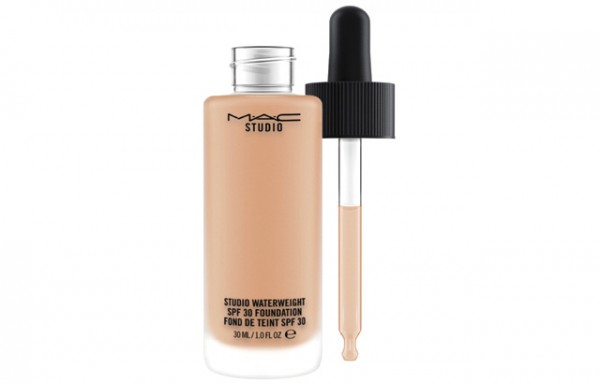 The foundation is also hydrating and so it's great to use for every type of skin – but people with oily skin (like me!) will find that it wears off as the day goes on – even with the use of a primer and powder.
But, when you're mostly at home with short jaunts out and about, you don't really need a foundation that lasts 12 hours, and in that case, a simple 8-10 hour foundation will do.
The coverage is light-medium and can be layered a bit to get up to the medium coverage.  I use a concealer under my eyes for extra coverage, and highlighting but the foundation is great for evening out my skin all over.
It's a very thin foundation so it's best to apply it with your fingertips or with a foundation brush.  A sponge would just soak it all up.
There are tons of fluid foundations out now – one from nearly every brand.  My advice is to go with the brand where you can find a good match for your skin tone.  I found the Nars one to be too yellow for my skin but it was super pigmented.   The Make Up For Ever foundation has the most colour options and if you find that it's hard to find a perfect match for your skin, then check that one out.  Dior's was also medium/light coverage but the colour options aren't there. L'Oreal and Lancome's versions are super light (actually, very watery) and leave skin silky smooth and also have great colour options. If you're in your twenties and don't need much coverage, those ones are the ways to go.
The MAC Studio Waterweight SPF 30 Foundation