I'm totally into lipsticks now instead of lip glosses, because I'm loving the staying power of lipsticks, and if you're into long-wearing products, then you have to check out Maybelline's new Lip Studio Color Blur Lip Pencil.  It beats any and every comparable product available at the drugstore and the department store!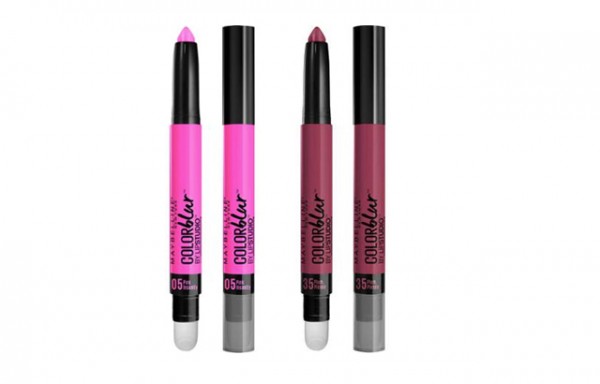 The Color Blur pencils are creamy matte sticks that are intensely pigmented.  For that reason, you can apply them all over like traditional lipsticks, or you can apply them sparingly and then blur with the silicone smudger that's on the end of the lippie.
I like the blurred look, but I really love the all over matte look.  Because these have so much pigment, it's easy to apply a full coverage coat at home but be left with a stain at the end of the day.  No matter what color I've used, they've lasted through a full meal and a cup of coffee, so the pigmentation and staying power on these is very impressive.
As with all matte lip colors, these don't work well on very dry lips and will accentuate very dry spots, but they are so pigmented that you can apply lip balm underneath without really compromising the staying power of the colour.
These are seriously my favourite lip product right now – I always love a nice matte lip.  I've got these in some bright colours but they come in neutrals as well.
Available at drugstores. for $11.99.
Oh and color in the middle is Plum Please which is a perfect dark berry for the season. The bright pink is Pink Insanity which is so bright that it's almost neon. They're my two favourite colours and I've been alternating between them this fall.
Also, L'Oreal has Le Mattes right now and it's not the same. It looks the same, but the pencil is significantly less pigmented. 🙂