This fall, Benefit comes out with two new palettes called Eye Gotta! and Eye Wanna!
Like last fall, these palettes are designed by Annie and Maggie, the two sisters who have started working for Benefit, the company their mother co-founded.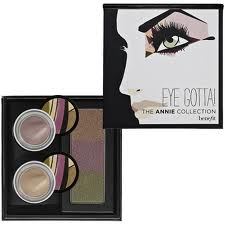 Last year, I loved the palettes because they provided anything you need to create a lovely fall look, and this season, I love that they focus on the eye, giving us palettes that can give us natural or edgy looks. Each palette has two Creaseless Cream Shadows in a neutral shimmer shade, and three eyeshadows.
Annie says: "Eye Gotta! is for gals who gotta look gorgeous all day…there are people to see, places to go, and things to do. My kit of enchanting eye shadows creates perfectly pretty, defined, fresh-looking eyes. You'll be ready for whatever comes your way!"
The Annie palette contains:
3 x 3 in 1 Benefit Eyeshadows in Canopy (warm nutmeg), Purple Haze (gilded purple), and Spiced (golden olive)
2 x Benefit Creaseless Cream Shadow/Liner in Flash (platinum fawn) and Foiled (shimmering sand)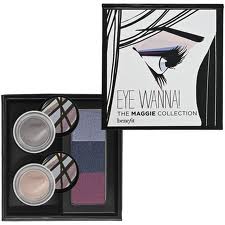 Meanwhile Maggie says: "Eye Wanna! is for gals who have it all—and wanna shimmy all night long! With eye shadows in all shades of fabulosity, my kit will take you from work mode to party status in the blink of an eye. Go ahead, get noticed, and steal the scene!"
The Maggie palette contains:
3 x 3 In 1 Benefit Eyeshadow in Skyline (blue silver), Inked (midnight sapphire), Deco (fresh plum)
2 x Benefit Creaseless Cream Shadow/Liner in Static (shimmering pewter), Airbrush (pink pearl)
Each palette is available exclusively at Sephora for Fall 2011.
What do you think?  Is there one that you'll be picking up?