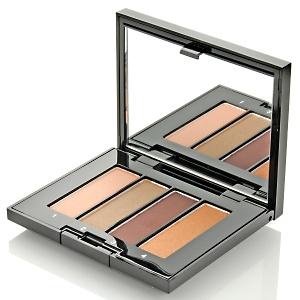 Eyes by Design is a new line of eye shadow palettes that bring something different to the already saturated makeup scent. Think Almay's line of colours (poorly) designed to make your eyes pop but better.
Eyes by Design introduces palettes that have colours grouped by what eye colour they would be best for. I checked out their entire line of bronze shadows. Now, bronze eye shadow is usually best for people with blue eyes, but what's interesting about Eyes by Design is that they understand that everyone might want to wear bronze and they make shade variations for different eye colours.
The bronze palette for brown eyes, for example, has a bronzy-purple as its main colour, and you can use the accompanying shades in the quad to make your look darker, lighter, or more gold. If the palette has one flaw, it's that there's no highlighting shade for some of them, but really, it's not that bad because I'm sure we all have tons of light eye shadow colours lying around that we can use as highlighters.
You can purchase Eyes by Design quads via the Home Shopping Network or HSN.com.  Each palette costs $24.50 and is well worth its price.