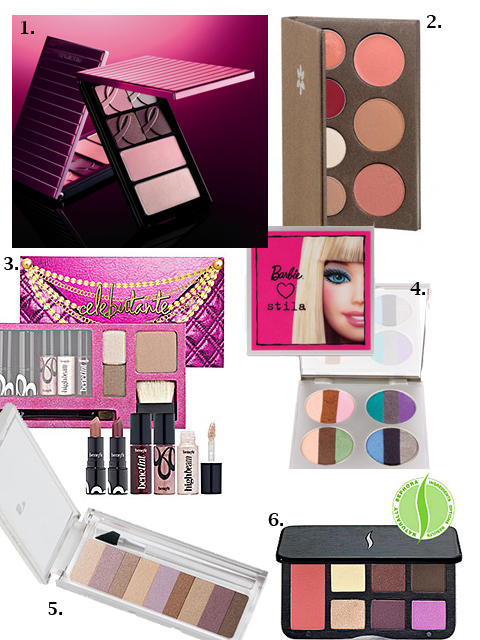 We love palettes because they make getting ready in the morning that much easier. Just pick up your favourite palette and you know your eyeshadows are already paired properly and your blush will match too. With a ton to choose from, we've picked out our favourite palettes this season.
1. Prescriptives Breast Cancer Awareness Palette. We are so going to miss Prescriptives when they're gone. They make top quality foundations and their colour cosmetics have great colour and lasting power. The breast cancer awareness palette has 4 eyeshadow colours in a range of purples, a pink blush, and a soft shimmery pink highlighter. The colours are perfect for every day or for creating a smoky purple look. Note that this is only available for a limited time so make sure you get your hands on it sometime this month!
2. Philosophy The Supernatural Coloring Book. If you're a fan of ultra-natural looking makeup, then you have got to check out the Philosophy line of makeup. All their colours are natural and sheer, so you can look like yourself, but prettier. The Coloring Book features a light eyeshadow that's almost colourless but evens out the eyelid. The darker shade is great for adding definition to the crease or even the cheekbones, and the cream and powder blushes make sure that your makeup will last the whole day.
3. Benefit Celebutante. Again, this is a great starter palette if you like the natural look. A winner with this palette is that it features some of Benefit's iconic items, such as the Benetint lip and cheek stain, High Beam highlighter, and their Dallas blush (which is my personal favourite). That plus 2 lipsticks and 2 shimmery pretty eyeshadows make this set perfect for traveling with or stashing in your gym bag, because it has everything you could need to look your best.
4. Barbie Loves Stila Eyeshadow Palette. All I can say is that getting 12 eyeshadows in one tiny palette is a fantastic deal, and the fact that they're Stila shadows? Well, that just sweetens the deal even more because Stila shadows are probably some of the most luxurious and pigmented shadows out there. There are a lot of funky colours in this palette, but a lot that can be used for a natural daytime look as well. The darkest shades work best as liners and are especially great used wet. This palette is sold out online, but it was still on sale at my local Sephora.
5. Physician's Formula Shimmer Strips Custom Eye Enhancing Shadow and Liner. I'm normally not one for drugstore shadows because they are usually much too shimmery for my tastes, but the Physician's Formula Shimmer Strips have blown me away. They are pretty colours and the darkest colour at the very bottom is actually usable as a liner! Now I see why the ladies on Makeup Alley rave about these palettes – for a drugstore product this is very much worth the price.
6. Sephora Pure Natural Island Sunset Palette. File this under something that might make a good present for the upcoming holiday season or as a hostess gift – Sephora's Pure Palette in Island Sunset – pretty colours that go on sheer or can be layered for more colour payoff. I like the combo of purples and nudes in this palette – it means that many people can pull it off, and the blush is bright so it'll definitely work on those with darker skin tones, and will likely be a tad much for the fairer skin-types.