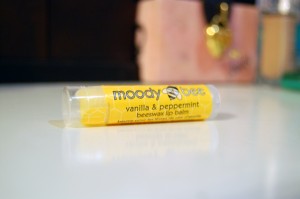 Moody Bee is produced right here in Canada in Kimberley, B.C. by an adorable family. I didn't know this before I tried the lip balm, and it only makes me love it more
Moody Bee vanilla and peppermint lip balm is amazingly creamy. It's approximately the opposite of hard and waxy (ahem, Burt's Bees lip balm) and smells delicious, like cotton candy. It's basically the reason people become addicted to lip balms to begin with, because it's so luscious and creamy, and will make your lips so soft and smooth that you'll want to apply it all the time.
Ingredients include sweet almond oil, beeswax, and hemp seed oil, as well as evening primrose oil. It'll heal cracked, bleeding lips pretty much as soon as you put it on, and is never sticky.
Best. Lip balm. Ever.
It's a bit hard to find, as it's not a regular drugstore item, but here is a list of places you can find it in Canada, or it can also be purchased online at moodybee.com.