Before I get into the review, my mom was visiting and asked me for a face oil, but one that didn't leave her face greasy.  She looked at me, and asked "what do you use?"
My face wasn't greasy at all…and I had used Province Apothecary's Rejuvenating and Hydrating serum!  It's a blend of oil but it absorbs into skin, so it acts more like a serum!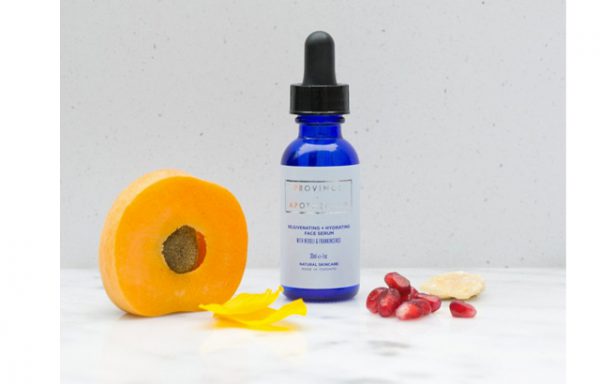 Province Apothecary's face serums are actually made up of a blend of oils, which really signals the way that people think about face oils now.  They're no longer greasy and annoying.  Instead, they're light and absorb into your skin and can be used before a thicker moisturizer or on their own if your skin is oily.
Check out the ingredients for Province Apothecary's Rejuvenating and Hydrating Face Serum:
Apricot Kernel Oil*, Camellia Seed Oil*, Pumpkin Oil*, Avocado Oil*, Jojoba Seed Oil*, Calendula Flower Extract, Borage Oil*, Raspberry Seed Oil*, Rosehip Seed Oil*, Pomegranate Seed Oil*, Vitamin E, Sea Buckthorn Oil, Neroli Oil, German Chamomile Oil, Frankincense Oil*, Rose Otto Oil, Myrrh Oil. *certified Organic
I love that all the ingredients are natural, and the majority of them are organic.
The main ingredients are all oils, but this serum is super-light.  The Vitamin E, Sea Buckthorn oil, and the Frankincense are proven anti-oxidants that help reduce fine lines.  The Rosehip oil helps increase hydration and makes skin more clear.
The best way to use this is to give your skin a nice massage on your face until it's absorbed.  If your skin feels dry afterwards or if you find that your skin just soaks this up, then follow-up with a moisturizer to really lock everything in.
$26 available online at Province Apothecary.