Last week, I was introduced to a company called @ArtisanalBooty, a company made up of two women who got tired of not knowing what was in their skincare.  They teamed up to create products with ingredients they could actually pronounce, and now sell their amazing skincare line on Etsy.
They sent me three of their face oils to try out: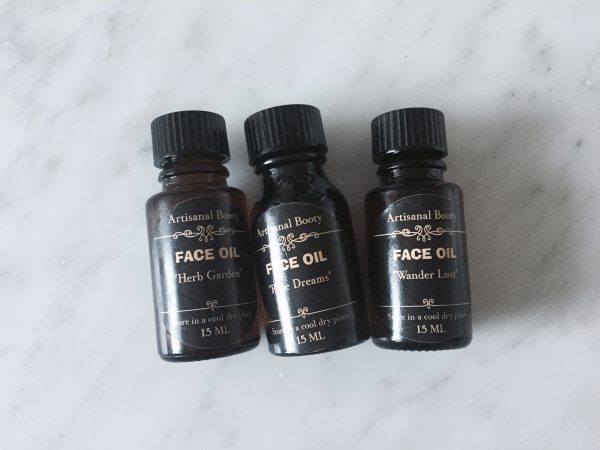 The three oils are Herb Garden, Rose Dreams, and Wander Lust. Oh, I also got their Chai Tea and Chocolate Lip Balms which immediately got stolen by little hands that like anything they can get all over themselves, but I'm been using them too and they've been keeping my lips soft.
The face oils are made up of a grapeseed oil base and accented with essential oils.  The Rose Dreams oil is my favourite – it's more moisturizing because it has sweet almond oil blended in too.  Herb Garden is the lightest oil and best for oily skin because it has rosemary and lemongrass in it to help keep skin clear.  The Wander Lust is most lightly scented and has chamomile in it to help calm skin.
Each oil is $15 – affordable if you want to try out oils to see how they work for you – and great to support a small business.  Check them out on Etsy.