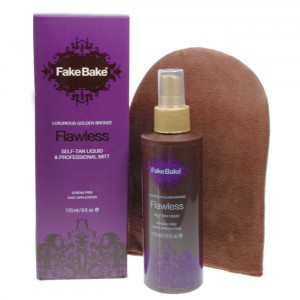 Yes, it's that time of year, where I really want to get a tan, but I am too scared of the sun to actually go outside.  Wrinkles and sunspots?  Who needs those?  Certainly not me, as I do plan on continue getting carded for as long as possible.
So I turn to self-tanner for my golden glow.  Yes, to clarify, I am already tan, and yes, I do need self-tanner because it makes my tan look better!  It gives it a golden quality that looks great when I apply shimmer on top.
Any more questions?
Good, on to the review!
Fake Bake is probably the most popular self-tanner companies out there and it's because they make a range of products for every tanning need.  They are also known for natural-looking colour, and thinking about application.
The Fake Bake Flawless Self Tan Liquid is a good example of all of the above.  It is a tinted liquid that comes with gloves and an application mitt.  You wear the gloves before putting on the mitt.  The liquid is meant to be sprayed on the mitt and then applied on the body in circular strokes.  See what I mean, when I say that they think of the application for you?
With the mitt, the liquid goes on very smoothly and without any streaks on the skin.  The liquid is tinted a medium brown colour that looks super natural.  You can see exactly where you're applying it so it's easy to make sure that you don't miss any spots.  The mitt also ensures that you've applied a very thin layer of the liquid and that the layer is even.
The liquid itself is super light and oil free.  It dries easily and doesn't smudge or smear off easily.  It does rinse off when wet, so if you sweat, expect some of it to come off. Because it's so light, you can also use it on your face without risking any clogged pores.
The colour of Fake Bake is quite light and natural looking.  It did show up on my skin but because it's so light, it washes off within a couple of days and if I want to maintain the tan, I have to apply it every day. If you are light skinned, then this won't be a problem and you may be satisfied with the colour you get out of this.
Flawless has a light coconut scent, and because you're applying such a thin layer of the liquid you won't get an overwhelming self-tanner scent from this.  I know that people hate that smell, and if you're one of those people, then you'll like this liquid.  I will point out that it's the active ingredient that causes the smell, so the less of that self-tanner smell you get, the less of a tan you're getting.  If you're willing to make the trade off, then you'll be happy with Flawless!
Overall, I really liked using Flawless.  I liked that I got a super even application because it meant that my tan looked really natural.  I also really like that the liquid is tinted because it means that I get a bit of a tan even before the liquid starts working on my skin.  The mitt also meant that I didn't ever end up with orange palms after using Flawless and that's awesome.  It's a small measure but it means that nobody will be able to tell that you used a self-tanner.  I'm going to hold on to the mitt even after I'm done using Flawless because I'm sure I'll be able to use it with other self-tanning products!
Fake Bake is sold only at salons.