Guess what?  Not a fan of fake nails or long nails.  I guess it's because I type on the computer a lot, or because I've just never liked the look of fake nails.  They kind of make you seem frivolous?  And … yeah, I'm writing that on a beauty blog, so I recognize the irony there, but that's ok.
But then I saw these Gel Fantasy nails by Kiss, and they were just the perfect shape for my hands, and I heard that the Gel Fantasy nails are actually thinner than the regular Kiss nails, so I thought I would try them, because I do have quite thin nails.
So check out my nails.  I think they looked pretty great, and I wore them to a dinner party and got tons of compliments!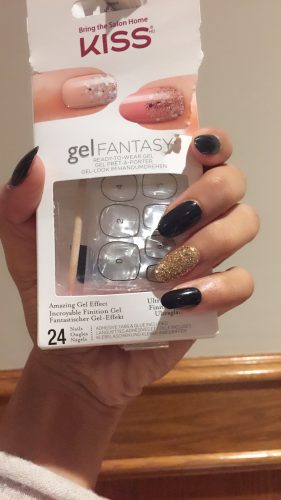 But, they did not last. I ended up doing tons of dishes that day, and at the party, and by the end of the day, I had lost a couple of nails which was not a cute look.  I did apply the nails with the glue that came with it, and I think that water ended up getting under the nails again and again and again and cause the glue to loosen and the nails came off. I think the glue that comes with the nails is pretty much like crazy glue which is meant to come off with hot water, and lots of doing dishes = nails coming off.
I did like that they gave me 24 nails and there were lots of size options for my nails.  In some cases, i could use more than one size for my nails, because the options were that close together in size.  I also had the option of doing a feature nail (the gold glitter one that you see) or just keeping them all the same colour.  I was impressed with the sizes and the options so I think that there are options for everyone.  Even though there were 24 nails in the package, there weren't enough to do my nails twice.
Would I use these again?  For sure.  But only for special occasions, and I wouldn't expect them to last more than a day. Think of them for the holidays.
Check them out at the drugstore.