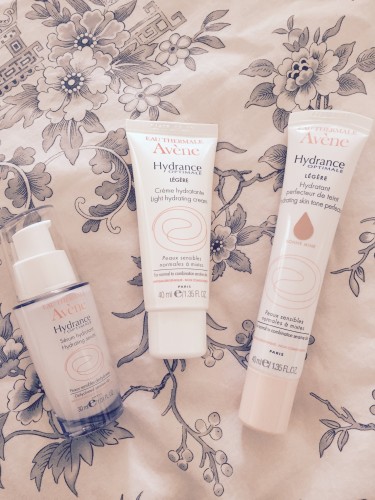 The weather is changing and so it's time to add extra hydrators into your skincare routine.  As the weather turns cooler, our skin can get dry without our even knowing it and so it's better to add some light hydrators to prevent dryness and then work up to more rich creams as the cold weather progresses.
This fall, I've been turning to French skincare brand Avene – their Hydrance Optimale collection has a cream that's light enough for me to use daily and is perfect for normal to combination sensitive skin.  There's also a heavier version of the day cream, and the Hydrating Serum is great for adding an extra shot of moisture before applying the creams.
I start off with a spritz of the Avene Thermal Water spray – it gives a fine mist of water on my skin and preps it for the skincare products to follow.  I then use the Hydrance Optimale Hydrating Serum ($44).  It feels almost like water – it is that light – but it quickly  adds moisture to even the most dry spots on my skin.  I then apply a dose of the Light Hydrating cream ($37.50) which absorbs quickly sealing all the moisture in.  Because it leaves skin so smooth, it makes a great base for makeup.   The cream also comes in a version that has SPF 25 ($38) which is great for wearing during the day if you're going to be out and about in the sun.
Both the serum and the Light cream are made with Avene Thermal Spring Water which means that they're putting moisture back into skin and sealing it in.  The Hydrating Serum is made with a special hydrophilic 3D matrix which releases water slowly so that skin is continually hydrated.  It's soothing and and has a mild powdery scent which makes it a pleasure to wear.  I find that the light texture of the products also means that they're so refreshing to apply – instantly waking my skin and making me feel awake.  Because all the dryness is gone, my skin appears smoother and more radiant.
Of course, I don't stop there: the final step is an application of the brand new Hydrance Optimale Hydrating skin tone perfector ($38) which has a light tint to it making skin look perfect.  This is available in one shade which is quite sheer but manages to blur minor imperfections on the skin.  Take a look at the swatch on my wrist – it blurred the tiny veins that I can usually see there with just a little drop.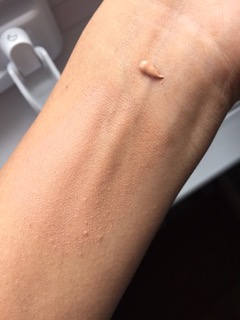 It also comes in a Light or Rich version so that you can meet your skincare needs while making your complexion look more clear.  Because this is so sheer, I use it more like a primer under my regular foundation.  All the products have quite a matte finish so it's easy to apply foundation on top without feeling like you're wearing too much.
I set everything with a powder, but my very final step is to add another light mist of the Thermal Spring Water just to set the makeup a little bit more.  The spray is so fine that it doesn't disturb my makeup and just helps my skin look more dewy.
Make up artists always use moisturizer before applying makeup and they all say that hydrated skin always looks much healthier and even needs less makeup.  The Hydrance Optimale line has everything for all skin tones this fall and winter, and you can check out the line at Shoppers Drug Mart.
You could win your own Avene products too!  Just click on the link below to enter!