Last year, I wrote about this moisturizer, which is supposed to have all the bells and whistles when it comes to making your skin healthier but it also has sunscreen in it, so that's primarily what I'm using it for….
Now, I've finished two of these moisturizers and to be honest, I'm not sure it's worth the $99.  Sure, it has a ton of antioxidants in it, but I'm not sure I've seen much of a chance in my skin because of them.  I think that a good vitamin C or retinol does more for my skin and I'd rather spend my money on those.
This is a great sunscreen – it has a thicker texture and I really like the dispenser, so if you were going to use it as a day cream, then it would be great.
Still available at Shoppers Drug Mart.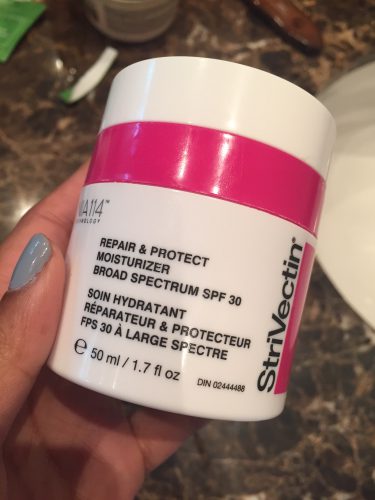 If it's getting more chilly where you are, then it's time to change up your moisturizing routine – namely by adding a better moisturizer to your skincare regimen, but without swapping out any of the sun protection you've been using.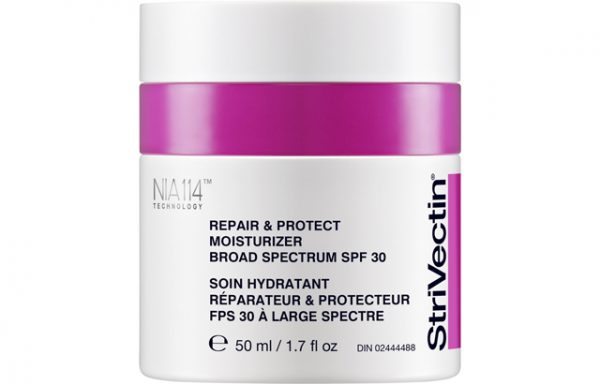 I'm turning to Strivectin's new Repair and Protect Moisturizer because it's a super moisturizing base that even has SPF 30 in it.  The SPF 30 is broad spectrum sunscreen which means that it can protect your skin from both UVA and UVB rays – some SPF's don't have that, and we need both – along with antioxidants – for adequate sun protection.  This moisturizer definitely feels more hydrating and thicker than my regular serum (my skin doesn't do well with moisturizer in hot and humid weather), but it's also making my skin so nice and smooth which I love.
This moisturizer also has loads of antioxidants, and patented NIA-114TM which can replenish the skin's moisture barrier and help fight the signs of aging.
You can find Strivectin at Shoppers Drug Mart Beauty Boutiques and at The Hudson's Bay Company.
$99.