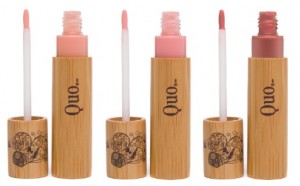 You must get your hands on these glosses by Quo before they run out. And they will run out because they are the perfect nude/wearable colours for this fall.
The entire collection is influenced by the natural world, and so all the colours are pretty, natural, and very wearable.  The lip colours are where it's at though because it's so difficult to find a good natural/nude and Quo does them BEST.  Every season I find a colour I love and can't help but wear for a long time.
There are three lip colours and lip glosses this fall, and there's something for every skin tone.
The colours are: Knockout Nude, Pucker Up Pink, and Spice It Up.
The consistency is rich but not sticky. Moisturizing but not oily. I have all three and rotate depending on my eye makeup, but Spice It Up is my absolute favourite. The colour is sheer but there's enough colour there to make an impact.
Pick these up at your local Shoppers Drug Mart for a very affordable $12 each.