With nail art as an ever growing trend and the prices of manicures not always budget friendly, it's always fun to try to do some nail art on your own at home.  This fall Melissa Forrest, Sally Hansen Beauty Expert and manicurist of Tips Nail Bar gives us the low down on the season's hottest colours and art trends to try at home.
When it comes to colours, "Sally Hansen colours are bang on this fall. Try Cherry Cherry Bang Bang, Fruitti Petuttie and my personal favourite "Blue Rose", says Forrest for your DIY manicure.  "Nails continue to be by far the hottest accessories! They are mini canvases reflecting the personalities of the women who wear them." So have fun!
When it comes to what trends to try there are many to choose from. "We are going to see classic styling reinvented with fun colours this fall, "says Forrest.  Simple tools to use to create original nail art include toothpicks, Saran wrap as a sponging tool, and makeup sponges.
 The French Mani Revised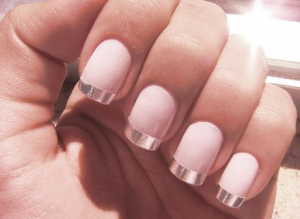 Forget about the old white tip and nude pink nail, those days are gone! Get creative with bolder colours that show off your personal style. Try a nude nail with a black tip, or a solid colour with a metallic tip
The Silhouette Nail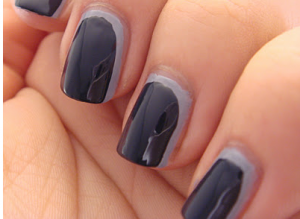 The silhouette nail allows you to use two colours on your manicure; the top shade shows through more, while the bottom shade outlines the other.  Apply the shade you want to see less of first all over the entire nail. Then the second colour is applied over top to leave the base and edges free to expose the base colour. You can try this with sparkles too!
The Etched-Mani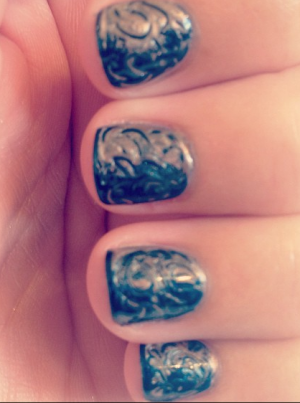 The etched-mani draws on the trend of texture, which is hot for fall, according to Forrest.  It's been seen on the runways at Toronto Fashion Week at Chloe Comme Paris and other trendy designers. To create the look at home, a solid colour is painted all over the nail. Next use a toothpick to swirl around the polish as it leaves grooves in the nail creating a textured funky nail design.  Allow the design to dry fairly well before applying a topcoat.
The Feature Nail
This is a carry-over trend from last year, but since nail art is so popular, it still works.  If you are more conservative, keep things simple by picking one finger on each hand to paint in a super bold or metallic shade that complements your other nail finger. The  "featured" finger will draw attention to your nails without making you go too much outside your comfort zone.