I would have to say that my most favourite floral fragrance note is that of the Rose. I know that it reminds some people of grandmothers, or of a stuffier era, but to me it's timeless and beautiful. It always reminds me of pure luxury and nothing else. The scent of a rose should be fresh and actually it doesn't need anything else to help it smell fantastic – which is why it's always fun to compare different rose scents and see how they differ.
To me, the Jo Malone Roses is the last word in rose perfumes. It's an old school musty yet fresh rose and it's probably one of my favourites. Layer with other Jo Malone scents to make it your own or wear it by itself for an uncomplicated rose.
If you generally don't like the smell of rose, I would still tell you to try these scents out because the rose often fades to the background after an hour of wear.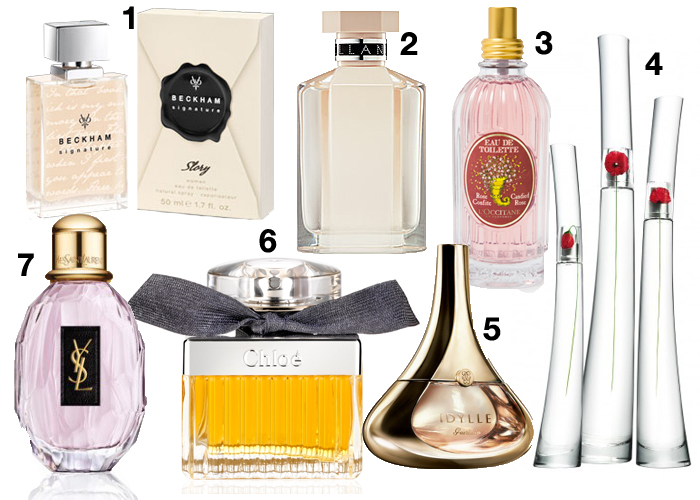 1. Beckham Signature Story for her. They are describing this as a fruity-floral fragrance, but keep in mind that the fruity notes dissipate very quickly! This scent is quite feminine and has an opening of peach and orange, a heart of rose and peony and dries down to a patchouli and musk combo. It smells rather like soap to me, and I think that's because it's so fresh yet dry at the same time. It's a nice scent but also doesn't over-dose on the rose note and is very fresh and clean. $50 ml retails for $57 and they are available at drug and department stores across Canada.
2. Stella Nude. On the other end of the spectrum is Stella Nude which came out late this summer. Unlike Chloe, Stella has lightened its classic rose perfume, and made it almost like a wisp of nicely scented air. It's no wonder that this perfume comes also as a linen or room spray – it's so fresh and light that you can use it on everything of the house, making it smell good but with subtlety.
3. Candied Rose by L'Occitane. L'Occitane has brought out this rose scent for its holiday collection and of course there's the accompanying shower gel and such that will go with it. The name Candied Rose might evoke a scent that's sugary or childish, but that isn't the case here. Actually, this scent is floral but not quite rosy, so keep that in mind when you smell it. Like most of L'Occitane's scents, this is light and fresh and feels like more of a body mist than anything else. I love the retro bottle this comes in (made of a solid glass, this deserves to be displayed on the vanity). 75ml comes for $48 and available at all L'Occitane stores this November.
4. FlowerbyKenzo Essentielle. Though not typically thought of as a rose fragrance, FlowerbyKenzo does have a Rose Damask note in it and is supremely constructed. This is another one of the iconic scents of our time, so if you haven't sniffed it just to see what the fuss is about, you really should! Kenzo says that it has streamlined the fragrance and uses the best ingredients. The Rose and Jasmine notes are a little more prevalent as is the pink pepper. If you were a fan of the original FlowerbyKenzo, you will love this! It is stronger and better! This released in Canada this fall and is available at The Bay for $73 for 25 ml.
5. Idylle by Guerlain. Idylle is Guerlain's newest launch and it's much-talked about. The fragrance is a blend of rose and musk, and guess what? It smells a lot like Narciso Rodriguez (which of course, I own and do wear). The only difference with it is that Idylle is a little bit more fresh, and doesn't seem to be as heavy or long-lasting as Narciso Rodriguez. I generally wear Narciso Rodriguez when it's really cold outside because the scent is so warm, but Idylle to me is a lovely fall or spring scent. It doesn't have as much sillage as the other perfume (that means that not everyone around you will be able to smell it) but that might be a good thing, since I could smell Narciso on anyone a mile away.
People also say that Idylle doesn't smell like a typical Guerlain perfume, and I would agree. I usually find Guerlain scents too sweet for my tastes and that's why I've never bought one even when I visited the Guerlain store in Toronto and smelled almost every scent in there. Idylle, to me, is better than Guerlain but I realize that I may be in the minority in saying this.
Beautiful perfume, I got mine at Murale!
6. Chloe Eau de Parfum Intense. I love it when a fragrance just gets better and better. This season, Chloe has come out with a lighter and more intense version of their original. I, of course, like the Intense version best. It magnifies the rose note while keeping the freshness and lightness in the fragrance. It's also very reminiscent of the Chloe Lisy purse spray which came out last holiday season, so if you liked that, you can stock up on this!
The Intense version, along with an accompanying bath soap will be available only at Holt Renfrew in Canada.
The soap will retail for $55.00 (for 2) and the eau de parfum Intense is $100 for 50 ml. Totally worth it especially if you love those rose notes like I do.
7. Parisienne by YSL. Also brand new and with a lot of buzz this season is Parisienne by YSL. People are talking about it because it's made by the same perfumer as Paris which is another iconic rose scent by YSL and is a sexier rose. If you've smelled Jo Malone's Pomegranate Noir, think of that paired with a rose note and you've got Parisienne. There's violet and a bit of patchouli in this which is perhaps which keeps the scent green. This is a scent you could wear a lot of and forget that it's there – and I mean that in a good way. It's not overwhelming and changes throughout the day so that you smell more than just the rose. Definitely one for keeps here as it's unusual yet pretty.
What do you think of rose scents? Are you a lover or a hater? If you like them, do you have a favourite? I would love to know so that I can try it out for myself!