If you're wondering what shade of gloss or lipstick to pair with your blue or grey shadows, I have the answer.  You must get a pretty strawberry or pink colour to adorn your lips.  We're not talking hot pink or anything neon here.  We are, after all, in autumn, no? I am thinking of actual pink, perhaps inspired by your berry of choice.  Raspberry or Strawberry would work well, as would a darker shade of Barbie pink.
Here are my picks.  You must try them.
Dior's Serum de Rouge in 670 (Pink Diva).  This is my go-to colour.  I love it so much that I got a back up!  It's a bright pink but the Serum de Rouge formula makes it go on sheer, so it's just a nice wash of colour.  I layer it more when I feel like I need to brighten my look more.  The blue-based pink makes my teeth look whiter too!
Fresh Gloss in Pomegranate by Joe Fresh.  This gloss reminds me of a higher end version by Prescriptives because it's nice and slick, not sticky.  The Pomegranate colour is sheer and wearable.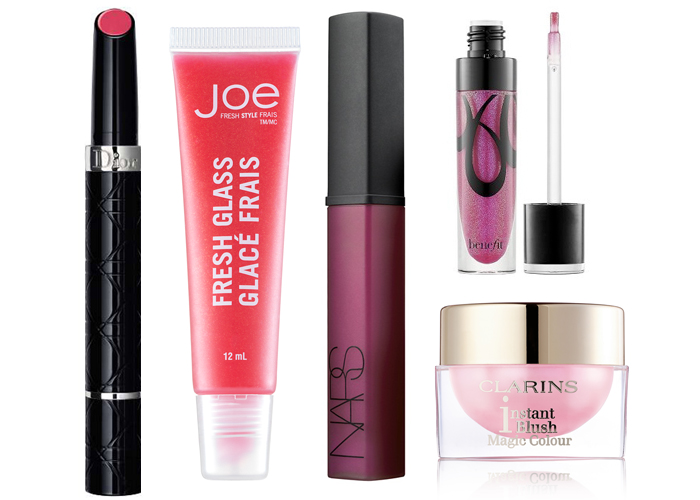 NARS Lip Gloss in Strawberry Fields.  This is the most pigmented gloss of a the bunch and the most pigmented one that I've ever seen from NARS!   I love it and a tiny swipe goes a long way.  You can definitely apply more for rich colour.  The dark berry hue is so pretty for the season.
Benefit Ultra Shine Lip Shine Back to the Fuchsia.  New Benefit Lip Shines have a non-sticky texture and lots of colour and shine.  In the tube this is a crazy bright shimmery fucshia but it goes on sheer while keeping its insane shimmer which is so pretty!  Use this on top of any colour lipstick to get a shimmering lip colour.
Clarins Instant-Blush.  The Instant Blush is actually a lip balm that comes in a pot and is based on colour-changing technology.  The balm starts off clear, and ne swipe will give you anywhere from fushia to light pink colour, and the more you layer on, the most stained your lips become.  Major points for being moisturizing at the same time and having colour that's a little unpredictable to keep things interesting.