Aside from trying almost everything out there, we like to think that we're pretty normal when it comes to beauty products.  We like to shop at Sephora, at the department store, and of course, at the drugstore.  Let's never forget that there are some truly excellent products on drugstore shelves – here are some of my favorite's this fall.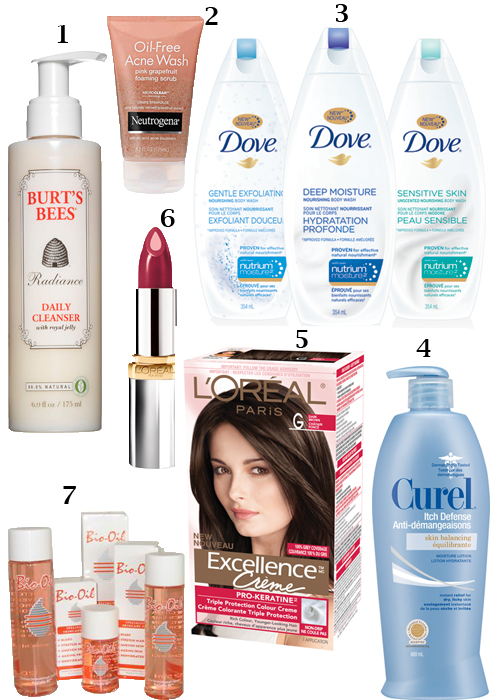 1. Burt's Bees Radiance Cleanser. Instead of leaving the best for last, I'm going to start with the best.  Who knew that Royal Jelly could make such a difference?  This might just be the best cleanser I've tried all year! It's foaming but it's got a gel texture and a cushiony feel on your skin. The rose scent is pure luxury, and this can was off eye makeup without making you cry. Plus, it's natural with leaves your skin super soft without drying it out at all. Love this! Costs $10 and is totally worth it.
2. Neutrogena's Grapefruit line of cleansers, especially the Oil-Free Acne Wash.  Love this because of the scent – it's a hint of pink grapefruit that's fresh and pleasant, especially first thing in the morning.  The fact that it leaves our skin squeaky clean is a bonus and we recommend it to every oily-skinned gal out there.
3. Dove NutriumMoisture Body Washes. These are creamy body washes that combine moisturizing ingredients with mild cleansers.  Now, instead of washing away moisture, you can add it to your skin as you shower.  I noticed a difference after using it for just a week and I know that you will too.  Again, about $10 for a large bottle at your regular drugstore.
4. Curel Itch Defense Moisture Lotion. Many people get very itchy skin during the winter because of dryness and the changing weather.  This Curel moisturizer promises to put an end to that so that you can have soft smooth skin without any sort of discomfort.  I put this in an accessible place at home, and we used it so much that a big bottle was gone within a couple of weeks.  I think that means that it works well enough to keep using.  Available for $10.
5. L'Oreal Paris Excellence Creme Pro-Keratine at-home colour. Proof that great-looking colour can indeed come in a bottle from your drugstore.  The Excellence line by L'Oreal is the best at covering greys and gives shiny long-lasting colour.  We love the range of shades available and the fact that it now comes with a pre-conditioner for extra protection.
6. L'Oreal Color Riche Pro-Collagen Lipstick in Compelling Coral. Bold lips are still in this season, and I was looking for a lipstick that would deliver creamy rich colour without drying out my lips.  This is the ticket, and I love the coral colour.  It's bright but not red, and it looks pretty no matter what the rest of my makeup is like.  I especially like it with a flawless face that's light on the eye and cheek makeup.  The slight tingling that the serum inside the lipstick gives is soothing, and this fills in lip wrinkles as it gives colour – amazing!   $11 per lipstick available across Canada.
7. Bio-Oil. I keep this in my bathroom at all times, incase of a skin inflamation or the like.  It always comes in handy and has even cleared up acne when nothing else has worked.  Just keep this on hand every winter – you'll be happy you did!