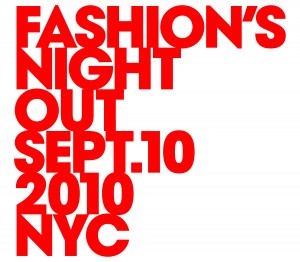 As you get ready for the new year and plan your calendar, you may be interested to know that this year's Fashion's Night Out date is September 10th, 2010. I am telling you much in advance because it's not a night to be missed, and is possibly one of the most fun, most interesting things I have ever experienced.
Yes, I went to Fashion's Night out last year (2009) and it was super fun. I walked around Soho with Lara from Pretty Connected, and again and again I got the feeling that I was out on Halloween.  The streets were crowded with people and everyone was jumping from store to store.
I watched a concert at Prada, joined a dance party at Costume Nationale, ate canapes at Diesel, and generally just had a really fun time.  It was something that could only be brought together by the magic of New York, and I'm so glad that it's going to be happening again because it was amazing!
If you were going to go to New York anyway, this is the time to do it!