Face oils – consider me a convert.  I've realized that my skin isn't just combination, sometimes it's downright dehydrated because of the climate and because of not drinking enough water!  The struggle is real!
So I'm adding hydration to my routine, usually first thing in the morning, and I'm also using a facial oil so that my skin doesn't feel so tight during the day.  Here are three that I have on rotation, and I use them for different purposes.  One will be right for you too!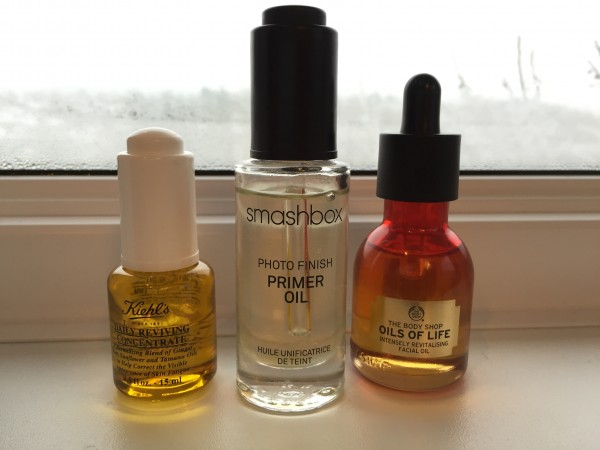 The Body Shop Intensely Revitalizing Oils of Life Facial Oil. ($44)  This is the lightest feeling oil that I've tried so far, but it still leaves my skin feeling hydrated, soft, and comfortable. In case you missed it, The Body Shop came out with a whole Oils of Life line last year, and there's a cream, a gel cream, and an essence in this line too.  If you have dry skin, then it's worth checking out the entire line.  The Facial Oil contains Black Cumin Seed Oil, Camelia Oil, and Rosehip Oil.  They're all proven to be great for the skin, and this oil has a velvety smooth finish to boot.  This is the one oil that's super versatile – use it day or night, with or without moisturizer, under makeup or mixed into foundation!
Kiehl's Daily Reviving Concentrate. ($30)  This is the oil to use if you need more hydration.  It's heavier than The Body Shop oil and best used at night.  It has Tamanu Botanical Oil, Sunflower Botanical Oil, and ginger Root Essential Oil.  It feels like a true oil on the skin and doesn't really "set" but it that moisturizing feeling lasts and lasts.  It leaves my skin super bright – I notice when I use it, so I'm sticking with this one too!
Smashbox Primer Oil. ($42)  This is the best primer I've ever tried.  It makes everything going on super smooth and really lets makeup last during the day. Thicker feeling yet best for use under makeup because it lets it go on so smooth.  This is the only oil that really absorbs into the skin and leaves it feeling as smooth as butter.  This is my favourite oil to use during the day especially if I'm going to be wearing makeup.  Powder on top of it and then everything else looks extra extra smooth.