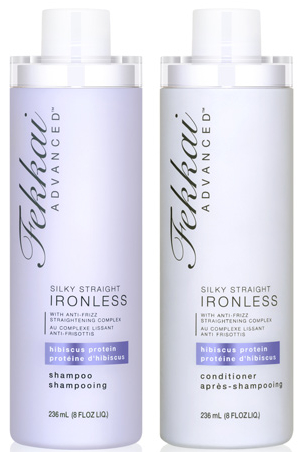 If there's one thing I'm always wary of, it's cleansing products – shampoo, face wash, etc. – that have astronomical benefits.  They're never on you long enough to make enough of a difference, so who are they trying to fool?
Fekkai Silky Straight Ironless line does just that.  The shampoo, conditioner, straightening balm, and gloss all promise that you can have salon-straight chic hair without much work – whatever that means.
I've been using the shampoo and conditioner for the past week, and guess what?  They don't make your hair straight without a straightener, and you do need to flat iron your hair to get really straight hair!  The shampoo and conditioner are for girls for curly or wavy hair (me!) which means that I'm definitely using the right product, but even with blowdrying, my hair is not going to come out straight.
I will say that this is a great shampoo and conditioner if you want to minimize the frizz that you have.  They smell great, and are ultra-moisturizing without being too heavy.  I really enjoy using them both because they're both salon quality, which is to say that they do a great job of washing your hair without being too harsh.
They just don't do everything they say they're going to do, but let's face it, nobody's that surprised at that.
Fekkai products can be found at Holt Renfrew!