There's been some backlash against contouring recently.  The Globe and Mail published this email past weekend about how contouring has gone mainstream when it used to just be reserved for the stage, and how difficult it can be to make contouring look truly "natural".
I have to admit: I contour every day, and I know sometimes I've over-done it and it doesn't look totally as natural as it should.  But it looks amazing in pictures and on camera, and from far, so it's still something that I try to do carefully.  The trend isn't going away; though there's backlash against it, the "trend" will just become the "new normal" like liquid eyeliner.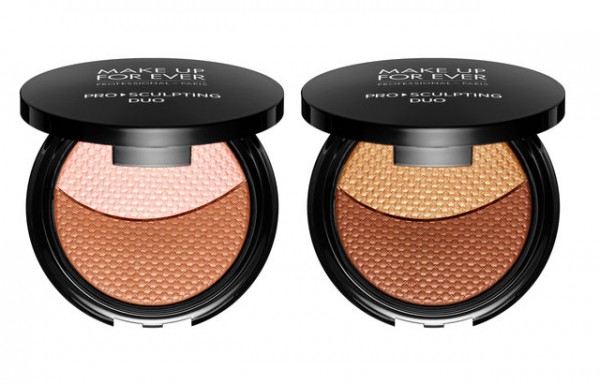 Make Up for Ever's new Pro Sculpting duo gives you a highlight colour and a contouring colour in one easy-to-carry palette.  The contour colour has just a tiny bit of shimmer, while the highlight colour is very shimmery.  The palettes come in two colours: one for cool skin-tones (the shimmer is on the pink side that's cool-toned) and another for skin tones that are warmer (the shimmer is golden).
The formula is gel-powder that is like MAC's Extra Dimension formula or Estee Lauder's gel-powder formula.  It's lightly cushiony to the touch and blends very nicely as long as you use a clean brush to apply it.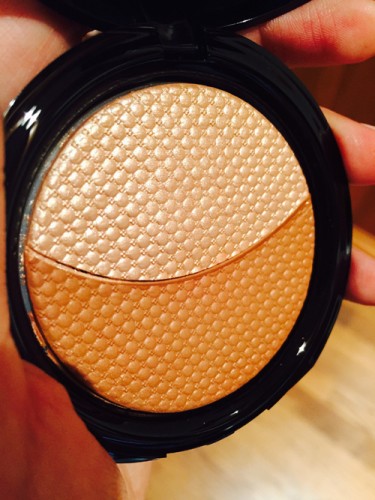 I found the highlighting powder to be a little too shimmery for me – it wears almost like a metallic eyeshadow, and I'd prefer wearing it on my lids.  I like it on my cheek bones or brow bones if I'm going out, but skip it most days.  The contour colour is on-point, and one that I'm going to enjoy wearing, although it's missing the hint of taupe that makes a shadow look truly natural.  Used properly it makes angles of the face really pop.
Get it at Sephora for $45.