Zoya has released a preview of its fall collections (they should be in salons in a few weeks), and they're covet-worthy because they're inspired by New York Fashion Week. Check out the video. I know that I'm already lemming the Designer and Gloss collection for sure…. as well as the YSL bags that they show in the vid!
Here is the Designer Collection: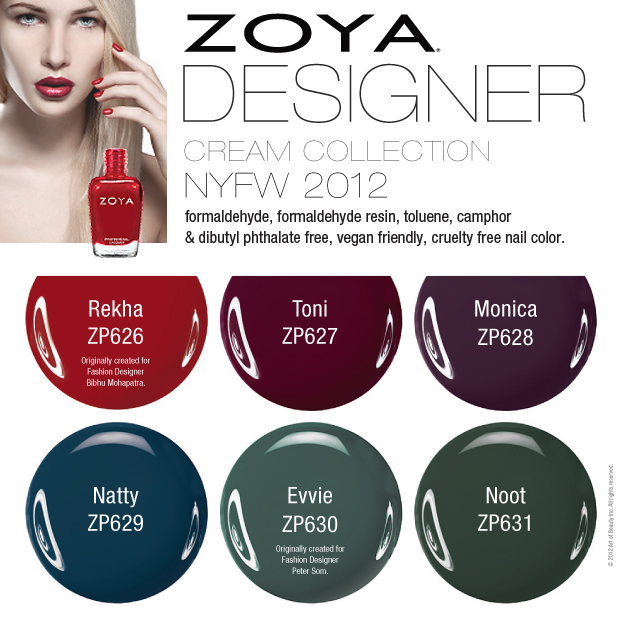 Colours are:
• Rekha (ZP626) – Blood red cream (Bibhu Mohapatra custom shade)
• Toni (ZP627) – Dark maroon red cream
• Monica (ZP628) – Dark mulberry purple cream
• Natty (ZP629) – Smoked navy blue cream
• Evvie (ZP630) – Evergreen green cream (Peter Som custom shade)
• Noot (ZP631) – Charcoal green gray cream
I love this collection because it's all creams! They just feel more polished and refined to me.
If you're more of a shimmer gal, the Diva collection is more for you: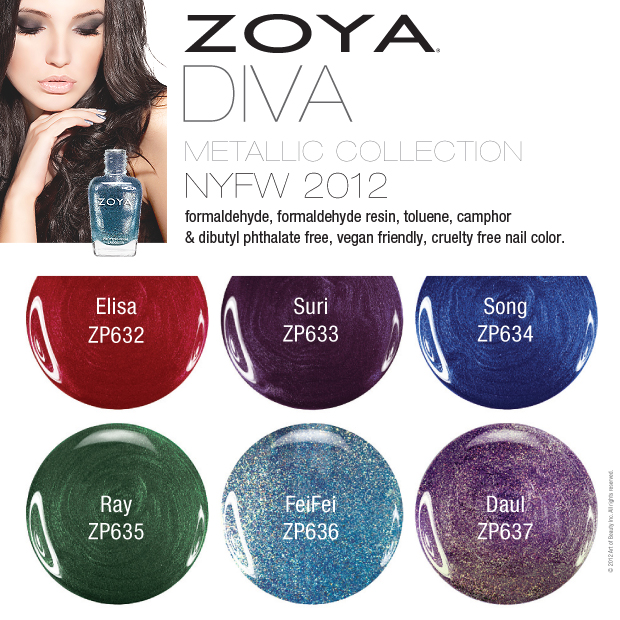 Colours are:
• Elisa (ZP632) – Crimson red metallic
• Suri (ZP633) – Royal purple metallic
• Song (ZP634) – Egyptian blue metallic with a subtle sparkle
• Ray (ZP635) – Pine green metallic
• FeiFei (ZP636) – Magic blue foil sparkle metallic
• Daul (ZP637) – Magic violet foil sparkle metallic
Gloss is all about the jellies: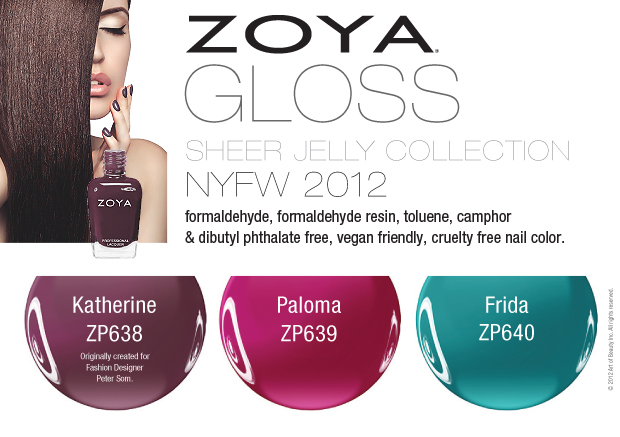 • Katherine (ZP638) – Sheer eggplant jelly gloss, buildable formula (Peter Som custom shade)
• Paloma (ZP639) – Sheer berry red jelly gloss, buildable formula
• Frida (ZP640) – Sheer teal blue jelly gloss, buildable formula
For more information and images, check out the Zoya blog!