It's been beautiful outside a few days in a row, and in my mind that means that summer is officially here!  I've been transitioning to summer products for a while, and here are the ones that I consider to be must-haves!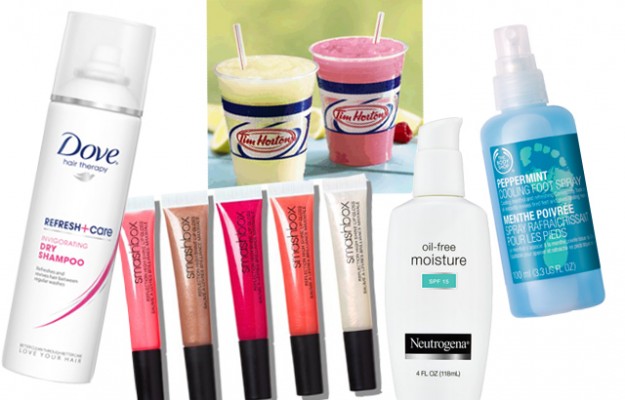 1. Neutrogena Oil Free Moisture SPF 15.  This is the perfect moisturizer for the summer when your skin might be a little bit oilier.  This oil-free wonder is a light and refreshing lotion that absorbs into skin leaving it hydrated so that it doesn't overproduce oil.  The SPF 15 is a nice touch, and in a pinch, I slather this all over my neck and arms too so that they're also protected from the sun.
2. The Body Shop Peppermint Cooling Foot Spray.  Everyone in my family is addicted to this stuff because it cools feet instantly.  It's a boon on a really hot day – I don't know what I did before it!
3. Dove Refresh + Care Invigorating Dry Shampoo.  This is absolutely a must-have in the summer because you might find that your hair is a little more oily.  Instead of washing and blow-drying ad nauseum, it may be a better idea to use a dry shampoo so that you can wash on alternate days! I absolutely love Dove's new dry shampoo because it doesn't look white on my very dark hair.  It leaves my hair fresh and clean-feeling without any of the fuss of washing.
4. Smashbox Reflection High Shine Lipgloss.  This is the best gloss that's come out all summer.  It's highly pigmented and very moisturizing, so it's perfect for a low-maintenance look when you don't want to wear lipstick.
5. Finally, my summer must-have is frozen lemonade from Tim Hortons.  I prefer the original Lemon one, and I like that I can get something cold without having to take a caffeine hit.
Thanks to Tim Hortons, you too can get your Tim Hortons fix – tell me what your summer must-have is and you could win a $25 gift card to Tim Hortons!  Just leave your comment in the comment section, and I'll pick a winner next week!