I've really been trying to get back to using masks regulary, because they really can make a difference in how your skin looks.  I know that it seems that the effect is temporary, but actually, absorbing oil and getting rid of dead skin can be something that really makes a difference in the quality of your skin.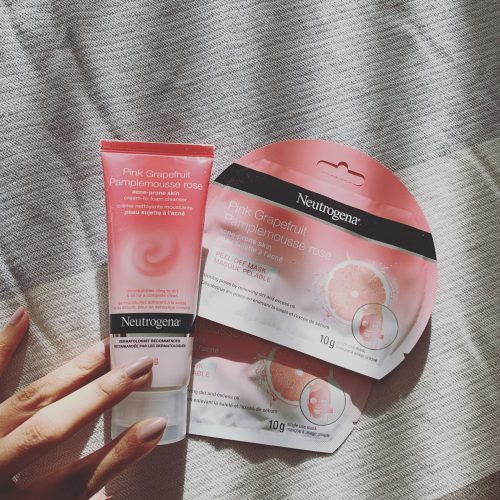 My favourite new find is the Neutrogena Pink Grapefruit Peel-Off Mask.  It comes in single-use packets that have just enough goop for your face.  You put it on and then wait 20 minutes for it to dry.  You'll know that you can pull it off when you feel tightness on your skin and it seems that the mask is kind of pulling off itself, you can move your face around and see if it starts to come out.
Then you pull the mask off and if it's all dry, it should really come off all together.  It pulls off dry skin with it and leaves your skin much smoother and clearer.  Makeup and any skincare product goes on better, so this might be a great mask to use in the morning.
The Pink Grapefruit Cream-to-Foam cleanser is a foaming cleanser, and you need just a tiny amount to create enough foam for your entire face.  Both products are great for oil skin because they leave it so clean but not dry and tight.
You can pick up the entire collection in drugstores and mass merchandisers.