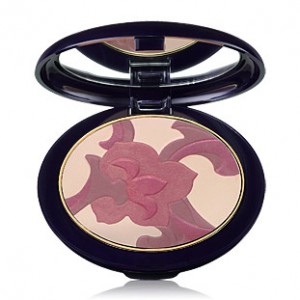 This is from the archive.  I remember this compact, and really wanted to love this as a blush, but I ended up not using it.  Anyone remember this from 2009?
I love love love Estee Lauder compacts.  There's a new one every season and I can't wait to find out what it is each time.  Every time, the compacts are different from the ones in seasons past, and I think that Quebecers will particularly love the one from their Fuscia Now collection.
The compact is called Fleur de Lys, and it features a Fleur de Lys design that's in a purplish pink colour.  This is a compact that's best used as a blush rather than all over, because it's not a colour that will work for everyone used all over their face.  Blend with the cream that comes in the compact itself and add just enough to make your own pink blush.
Yay for Spring!