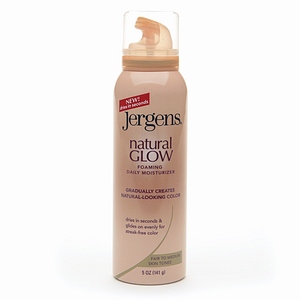 It's not even July and we've already tried a gamut of self-tanning lotions.  We tried a few with shimmer this spring, but unless you're in a major hurry, your best bet is going with a lotion that works gradually.  You'll make fewer mistakes, and when you do make a mistake, it'll be subtle and easy to correct.
The one product that has us totally stumped is a foam application of self-tanner.  I've tried it and I can't figure out what the draw would be for using it.  You can't tell where you're putting it, it's not moisturizing so you'll probably have to use another product too, and this means that you're not going to get a flawless application.
What about you?  Have you had success with foam self-tanners?  Why?