This is for the girl who always asks for samples at the beauty counters when you go to the mall together.  She's the one who's never satisfied with what she's using because she loves knowing about the next best thing.  Or maybe she's a he that's really into skincare.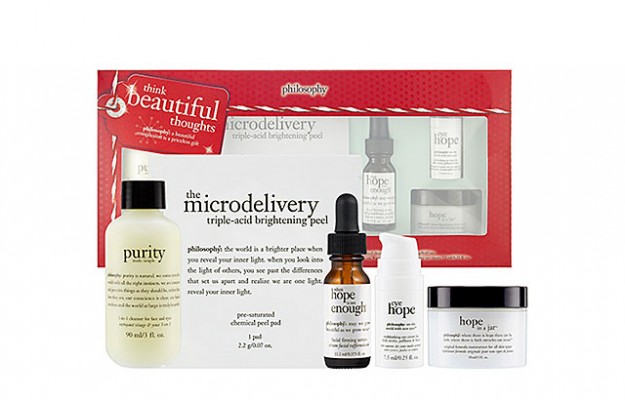 Whoever the friend, get them the Philosophy Think Beautiful Thoughts gift set, which has some of their tried and tested awesome skincare products – many of which we've reviewed.
The set includes:
– 3 oz Purity Made Simple®
– 0.07 oz pad The Microdelivery Triple-Acid Brightening Peel 
– 0.375 oz When Hope is Not Enough™
– 0.25 oz Eye Hope
-1 oz Hope in a Jar™
It's a great way to try some really great skincare products for a reasonable price – and chances are that your friend will actually see results and be hooked!
Pick up the set at Sephora, and The Bay for $59.