Tuberose is what many consider to be a classic perfumery note.  It's a white flower that some people really do associate with that "perfumy" smell and it's absolutely beautiful.
The new Tuberose collection by Aerin also features a body cream and a body wash, and 2 tuberose fragrances, one for day (jour) and one for night (soir).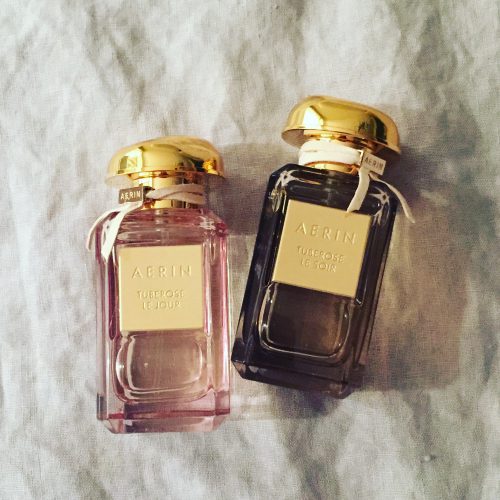 Aerin Tuberose le Jour is bright and fresh with the tuberose note bring front and center.  It's a brighter thanks to the citrusy notes that open with it, but the drydown stays bright and floral.  These scents really are all about the Tuberose.
Aerin Tuberose le Soir is a bit deeper than le Jour, but it still features the fresh tuberose note front and centre. Even though this scent is meant for the night time, it's fresh enough to still work during the day.  Ylang ylang is blended with the white flours, and this has a drydown with vanilla and sandalwood.  It's definitely a bit more sophisticated than Tuberose le Jour.  It's like a funky older sister of the other, while le Jour smells more fresh and innocent.  Both are so pretty and floral.
Available at Aerin counters or online.  $275 for 1.7 oz/50 ml.