Verveine Utopie is Roger and Gallet's most recent launch – it came out this fall and adds to the brand's lineup of amazing-smelling products.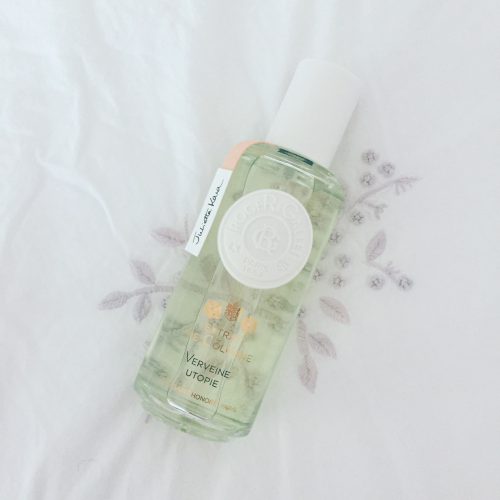 Here are the notes of Verveine Utopie:
Top notes are: lemon, bergamot, sweet orange, and cardamom.
Middle notes: nutmeg, pink pepper, ginger, rosemary, basil and orange blossom.
Bottom notes: vetiver, fennel, cedar, wormwood.
As you can see, this scent is unlike most others.  It doesn't really focus on floral or gourmand notes, and that in itself makes it quite different.  It's also super fresh and clean, and most of the time, when I wear it, all I can smell is vetiver.  Beginning to end, vetiver is the strongest and most consistent note in there, and that's ok with me.  It's fresh, it's almost savory, and it's uplifting so I love that.  You can wear it during the day or at night, and it's strong enough to be smelled by others around you, but is rarely offensive in any way because it doesn't have any sweet notes in it.  Most of the time, people don't know the smell of vetiver so it's appreciated as something new.
Even though this is a cologne, it lasts a good 12 hours,
You can find Roger and Gallet at The Hudson's Bay, and this scent is just $40.