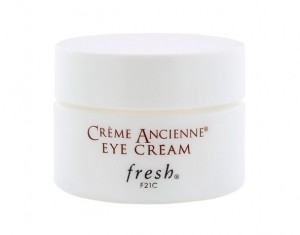 One of Fresh's most popular products is their line Creme Ancienne. Creme Ancienne is so cool because it's all hand made and inspired by ancient beauty secrets and salves.
The Creme Ancienne Eye Cream is entirely hand made by monks in a monastery in the Czech Republic. The cream is still rich, like the regular Creme Ancienne, but it goes on so smoothly and is light-weight so that it won't clog pores or upset the delicate eye area.
I found that within a week of use, the area around my eyes was much softer and hydrated. I did find it to be kind of greasy, but I need that around my eyes and I found that the cream had totally absorbed into my skin by the end of the day.
The cream retails for $95, and I haven't found it at Sephora yet, but it's on the Fresh website.