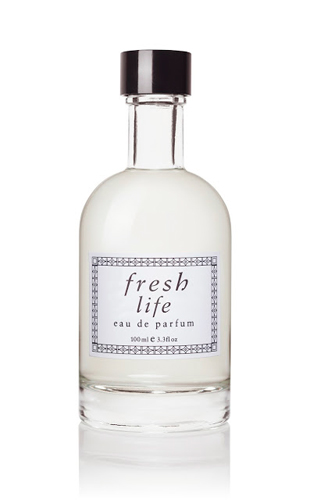 This winter, Fresh launches a brand new fragrance: Life eau de parfum.
In keeping with the rest of Fresh's lineup and overall aesthetic, this perfume is, of course, fresh and easy to wear, although it seems more floral than what they have already.
Opening notes are strongly citrus: velvet bergamot, vanilla grass, and dreamy cypress. In the air, and from the bottle, all I could smell is the bergamot which is always nice and fresh. The bergamot quickly gives way to the subtle vanilla base, and notes of grapefruit and magnolia. The blend of grapefruit and magnolia is so pretty and this fragrance really divides itself over the floral and fruity notes. You get lots of both in each sniff which is very unusual. I was so pleased to see that the vanilla isn't overly sweet and really just adds some mellowness to the scent and helps make the gourmand grapefruit stand out a bit more.
Amber, orange, and tonka flowers are in the drydown, and again, there's lots of blending between the floral and sweet notes.
This fragrance is really unusual and super pretty. It's completely unexpected for the winter and perhaps that's why I like it so much.
If you are really in the mood for something different check out this scent. It definitely caught me by surprise. It would also be perfect to wear any time of year.
$44 CAD for 30mL and $92 CAD for 100mL.